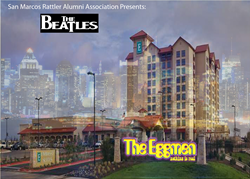 San Marcos, TX (PRWEB) September 14, 2014
The morning of November 22, 1963 started out with much excitement and dreamy thoughts for the Sr. Class of 1964: it was Homecoming and they would be having their Sr. Class Homecoming Dance tonight, an annual tradition. This was their prom. But all of sudden everything changed by 1:00 pm that afternoon, as the world learned that JFK had been killed in Dallas, TX, and by 3:00 pm, it was sadly announced that the 'Homecoming Prom' was cancelled. The Sr. class understood, but they hoped that they would have their event sometime later that year; it never happened. And later after graduation they all said they would have it at one of their reunions, but again it didn't happen. But 50 years later the San Marcos Rattler Alumni Association will have a special 'Homecoming Dance' at the Rattler All Class Reunion.
Now for the rest of the story..... a few months later in February of 1964, 'The Beatles' invaded America, and many writers and articles said that one of the reasons for Beatlemania that swept through America, was that the Beatles music & celebrity status made Americans stop mourning JFK's death. The largest TV audience of 74 million saw the Beatles on Ed Sullivan in February, 1964. After that night America's Baby Boomers would never be the same again.
It is so ironic that the theme for the Senior Homecoming dance was 'West Side Story', which of course required a New York City set. Now comes present day 2014 and the theme for this year Reunion was 'Purple & White, New York City' theme. And believe it or not, the reunion committee and members did not find this out until after the theme had been set. Donna Holstrom Watson class of 64 called us when she read about the New York theme for the Rattler Reunion, and it was then that she related the story of Homecoming on Nov. 22, 1963.
And now to celebrate their reunion and all rattler classmates, the (Beatles return) Eggmen acclaimed as one of the best, if not the best 'Beatles Tribute' bands in the USA. And if you haven't gotten it yet, it is also the Beatles 50th Anniversary on arriving in America, and the rest is history as they say. Today 50 years later The Beatles music is loved by all ages, from teenagers to Seniors. There is a Beatles Tribute Band that plays every week in Vegas for the last 10 years or so. In addition to the 'Eggmen' band, the Grooves a Texas Party Band since 1991 will provide classic rock, Motown, oldies, disco, rock and roll, country, standards, swing, eighties dance, plus all the most up to date dance music.
Along with the two bands there will be a reception starting at 5:30 pm in honor of all past 'Distinguished Alumni' for the past 10 years. Then a nice dinner will follow, and the program. With two great Bands and a major celebration, the All Class Rattler Purple & White, New York City theme will be a party and a Reunion that will be remembered for another fifty years. For additional info and tables and tickets, go to http://www.smrattleralumni.com.