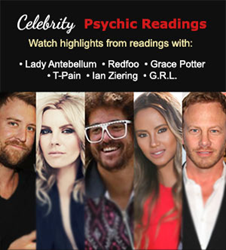 Langhorne, PA (PRWEB) September 08, 2014
If you could know your future, would you ask? These celebrities did. T-Pain, Ian Ziering, the guys of Lady Antebellum, Grace Potter, G.R.L, and Redfoo wanted to know more than just their futures. This summer, they asked top Advisors from Psychic Source, the most respected psychic service since 1989, questions about love, career, and even the spirits lurking in their homes. The much anticipated highlight video, Psychic Source Celebrity Readings: Episode 1, has finally launched—and you won't believe what it reveals!

If YOU were famous, what would you ask a psychic?!
If Grace Potter were to have an affair, who would it be with?
Where is T-Pain's career headed?
How many installments of "Sharknado" will Ian Ziering appear in?
Will Lauren of the hot, new girl band G.R.L. have her own clothing line?
What's in store for Dave Haywood and Charles Kelley of Lady Antebellum's love lives?
The video has everyone, from skeptics to die-hard believers, laughing hysterically at the celebs' reactions to their readings.
The Director of Marketing at Psychic Source, Maryanne Fiedler, explains, "We were originally excited to get the celebrities the answers they were looking for from our psychics, but it turned out to be so much more. Everyone had a blast while deeply reflecting on themselves in the process."
The readings were fun, but some were very emotional, as Redfoo from LMFAO shares: "This is great. I feel very positive about my future; I feel more clear [about] what I need to do. This is incredible direction for me 'cuz I'm a little all over the place."
Watch the official highlight video, Psychic Source Celebrity Readings: Episode 1, on PsychicSource.com (http://www.psychicsource.com). You can also watch some behind-the-scenes footage, including Ian Ziering joking with Psychic Kimberle and Charles Kelley of Lady Antebellum pretending to be a psychic, in the blooper reel!
*****
About Psychic Source:
Founded in 1989, Psychic Source is the nation's oldest and most respected psychic service. Psychic Source's advisors are experts in astrology, horoscopes, numerology, tarot cards, clairvoyant readings, and many other psychic disciplines. Psychic Source believes in its community of authentic Psychics and stands behind the authentic psychic readings they deliver to clients. Visit them online at http://www.psychicsource.com.
For more information, contact:
Maryanne Fiedler, Marketing Director
maryanne(at)psychicsource(dot)com
215-953-8568