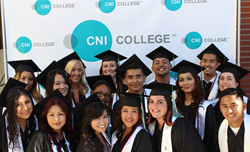 Todd gave our future health care professionals some great insight on our communities needs for great health care providers and told them how their education can provide the care we as a community need
Orange, CA (PRWEB) September 09, 2014
More than one thousand people gathered at Servite High School in Anaheim on Friday, August 22, to watch CNI College graduates receive their diplomas and certificates. CNI College provides students with a full range of career training to help them succeed in some of the most desired health-related fields. Orange County Supervisor Todd Spitzer, guest speaker, provided words of encouragement to the attendees and presented them with Certificates of Recognition from the County of Orange.
Spitzer spoke of his vocal cord cancer diagnosis in 2009. The graduates, who will all enter the healthcare field, were inspired by his message of how important the work of health professionals is. He noted that the nurses, technicians, and medical staff all make a difference with their compassion and care of patients—and thankfully Spitzer's cancer is now in remission.
"It was a great honor to have Supervisor Todd Spitzer at the graduation for CNI College. Todd gave our future health care professionals some great insight on our communities needs for great health care providers and told them how their education can provide the care we as a community need," said Patrick O'Hara, Vice President, CNI College.
The CNI College graduates, who all completed their course work within the last six months, received certificates, awards, and/or diplomas at the ceremony. CNI offers an Associate Degree in Nursing (RN) and programs in Surgical Technology, Massage Therapy, Medical Assisting, MRI Technology, Personal Fitness, Pharmacy Technician, Surgical Technology, and Vocational Nursing (LVN).
During the ceremony, a special tribute to veterans was given, with students, faculty, and guests being acknowledged for their service to our country. In addition, five valedictorians and four salutatorians were honored for their academic achievement in course work at CNI College.
About CNI
CNI College is committed to providing excellent academic educational opportunities in allied health disciplines for the intellectual, social and professional development of a diverse student population. CNI is devoted to the community we serve and committed to our graduates' successful employment in the healthcare field. We partner local hospitals so students receive hands-on training during their externship programs. CNI was founded in Orange County in 1994 and is celebrating twenty years of education. For more information: http://cnicollege.edu or (800) 455-4700.
###