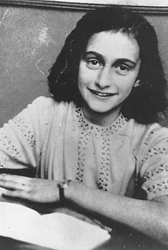 New York, NY (PRWEB) September 10, 2014
The Anne Frank Center USA is seeking submissions from middle school students (grades 5-8) for its first National Essay Contest. Submissions are due on Monday, October 20, 2014, the National Day on Writing.
Anne Frank was just 13 when her family went into hiding in the Secret Annex to avoid capture by the Nazis. The experience took away nearly everything – from friends to fresh air – but her curiosity and optimism remained, as evidenced in her now famous diary. During the two years she spent in hiding, she used writing to reflect on the turmoil of the world around her, stressing the need not only for tolerance and peace, but for individuals brave enough to work toward these things. "How wonderful it is," she observed in March 1944, "that no one has to wait, but can start right now to gradually change the world!"
The Anne Frank Center USA was founded by Anne's father, Otto Frank, the only member of her family to survive the war. The Center hosts exhibits and programs devoted to eradicating bigotry in favor of peace. In 2009, we launched The Sapling Project, which awarded saplings from the very tree outside of Anne's hiding spot to eleven iconic sites in America – as a way to bring this hopeful message to future generations.
The Center believes, as Anne did, that children matter and can make a positive difference. In honor of Anne and the National Day on Writing, we are sponsoring an essay contest to inspire young people to think about the consequences of intolerance, racism, and discrimination, as well as ways the next generation can build a world based on mutual respect.
THE CONTEST IS OPEN TO STUDENTS CURRENTLY IN GRADES 5-8. THE DEADLINE FOR SUBMISSION IS THE NATIONAL DAY ON WRITING: MONDAY, OCTOBER 20, 2014. TO APPLY, VISIT: http://annefrank.com/afc-nationalessaycontest/
The grand prize, sponsored by KLM Royal Dutch Airlines, includes round trip economy class tickets for the winner and two guests from a KLM USA gateway city to Amsterdam. The DoubleTree by Hilton at Amsterdam Centraal Station is providing three nights in the hotel, and the Anne Frank House is providing a private tour.
Terms and conditions apply.