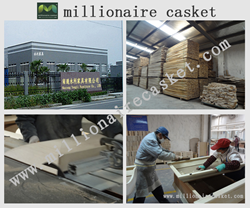 (PRWEB) September 10, 2014
Recently, MillionaireCasket.com, a leading casket company from China, has announced its new rental caskets. Every casket in this new collection is a work of art with intricately designs and fine built. These caskets are available at affordable prices.
For its fine products and reasonable rates, the company has been getting positive responses from its customers. Although it is a commercial business, millionaircasket.com understands the underlying emotions in the products it supplies and this is why it ensures that the products it supplies are flawless and have low rates so that every customer can depart the loved ones in the best manner possible.
The new rental caskets come in a range of sizes and weight measurements. Customers can order bronze as well as steel caskets with any measurement in size and weight; extra large ones or caskets for children are also produced and supplied. The rental caskets are rust free and corrosion free, even the insides are treated with chemicals to keep them clean and damage free. Whether it is a simple one or an elaborate coffin, millionaircasket.com has it all.
MillionaireCasket.com has been producing various types of caskets for many years; its major line of products includes metal and wood caskets. The company is a casket wholesale business supplying high quality products at very reasonable prices. For this reason, it has earned a reputation of being one of the best casket manufacturers in the market. Along with caskets, it also produces other funeral related products which include church trucks, earns, stretchers, body bags and much more. All the products are best quality handicrafts.
About MillionaireCasket.com
MillionaireCasket.com is a leading casket company that focuses on the business of casket wholesale. This company offers an exquisitely crafted line of all kinds of metal caskets, solid wood caskets, veneer caskets, cremation caskets, rental caskets, orthodox caskets, infant or over-sized caskets and European style coffins. The standard quality control policy is strictly applied here, and a third party quality assurance is also available.
More information can be found at
http://www.millionairecasket.com/63-rental-caskets.