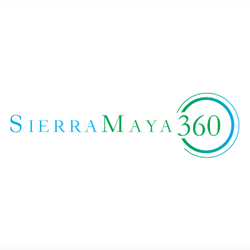 Our new early stage fund will continue to invest heavily in technology startups while also expanding our reach into mobile, e-commerce, media/entertainment, gaming, cutting-edge software and consumer goods startups.
San Francisco, CA (PRWEB) September 08, 2014
Highly ranked early-stage venture fund Sierra Maya Ventures is officially launching as SierraMaya360. The firm will introduce a new fund, bridging Hollywood and Silicon Valley and focusing on early-stage startups in tech and media. The expansion includes the addition of two new partners, an expanded portfolio of services and new West Coast offices in San Francisco and Los Angeles.
"Over the last year, the fund has experienced dramatic growth due to our promising technology portfolio which has allowed us to accelerate our plans to expand the firm into new markets and industry sectors," said Amish Shah, one of SierraMaya360's four founding partners. "Our new early stage fund will continue to invest heavily in technology startups while also expanding our reach into mobile, e-commerce, media/entertainment, gaming, cutting-edge software and consumer goods startups. As part of this expansion, we are closing a new fund and bringing in two prominent tech and Hollywood industry veterans. They will be fundamental in growing the firm's investments in key markets and expanding our portfolio across the West Coast."
With an existing footprint in New York, Boston and Charlotte, SierraMaya360 will now include offices in San Francisco and Los Angeles. It is also expanding its partnership team to include Glen Howard, formerly of Mercury Capital Management, and Tony Potts, formerly of Dot N' Feather Ideation and Access Hollywood. Howard and Potts will represent the firm alongside founding partners Amish Shah and Eric Kagan. The firm has also appointed Molly Gamache to Operations Director and Dan Rogers to Associate.
"We're extremely proud to have the support of Glen and Tony as new partners with the firm. Their expertise will be critical to our long-term growth strategy for the fund," said Kagan. "Glen's many years of experience and close relationships with top VCs in Silicon Valley will be a game-changer for deal flow and helping our portfolio companies get in front of top VC firms. And Tony's deep ties, experience and trust within Hollywood's inner circle gives us a competitive edge to get brands noticed and leverage the growing ties between Hollywood media, distribution and promotion to new technology from Silicon Valley."
A 34-year veteran of Silicon Valley, Glen Howard has a solid track record in technology, startup development, fundraising and venture capital financing. Howard has participated in the debt and equity financing of over 250 venture-backed companies. His experience includes the co-founding of Hercules Technology Growth Capital (NYSE: HTGC) and several key management and investment roles with Comdisco Ventures.
"I've gotten to know Eric and Amish over the last year and was impressed at what they accomplished in such a short time," says Howard. "When I heard about their vision for SierraMaya360 and plans to opening new offices in Silicon Valley and Silicon Beach, I thought it would be a great fit for me. I am excited to join the SierraMaya360 team."
Tony Potts has been a fixture in Hollywood for over three decades with NBC's Access Hollywood, more recently bringing his strong presence to Silicon Beach in 2009. Potts is a successful entrepreneur, content creator, startup advisor, consultant and real estate investor. He is a trusted advisor to A-list stars, studios, directors and executives, with a reach extends to the world's biggest stages including the Oscars, Olympics, Grammys, Golden Globes, London, Paris, Cannes, Monte Carlo, Rome and more.
"Tony has done it all, from going one-on-one with A-list stars such as Clooney, Roberts, Depp, and DiCaprio, to filling in for Larry King and Regis Philbin. He's even appeared on The Tonight Show, " say Shah. "He'll be able to get companies from our portfolio in front of the movers and shakers in Hollywood."
From the recent success of apps by Tom Hanks' and Kim Khardasian to entrepreneurial stars like Ashton Kutcher, Jared Leto, Kevin Spacey and Bono all investing in high tech, the gap between Hollywood and Silicon Valley is closer than ever. Even the recent HBO hit, Silicon Valley, shows how the time is ripe for SierraMaya360.
"I've been working with Amish since early this year on some projects in Hollywood," says Potts. "When we spoke in July, we began discussing opportunities around the new fund. I approached him about my experience watching the rise of Silicon Beach, how Hollywood and Tech worlds were colliding, and how together we can fill the void to bridge the gap. I've had opportunities to join other Venture Funds in the past, but they weren't the right fit. I'm excited about SierraMaya360, and believe in their mission."
The firm's precursor, Sierra Maya Ventures, has been consistently ranked as a top 5% fund by Mattermark. It also recently won the "Best Newcomer in Venture Capital 2014- North America" award from Wealth & Finance International. The company's current portfolio includes 20+ early-stage technology startups, including SkyCatch, LiquidSpace, DealFlicks, Wefunder and Mattermark.
ABOUT SIERRAMAYA360: SierraMaya360 is a full-service early stage venture capital firm. Our team is comprised of industry veterans with an extensive network of contacts in Silicon Valley, Hollywood, New York, Boston, Charlotte and now Silicon Beach. Our experience, network and expertise gives us a critical advantage to identify innovative opportunities long before they bubble up as a 'trend' on the national radar. Our firm was founded to leverage the success of angel fund Sierra Maya Ventures, which won Top Newcomer to Venture Capital 2014- North America by Wealth and Finance International Magazine and is consistently recognized a top-tier Angel/Seed fund. To learn more, visit sierramaya.vc.