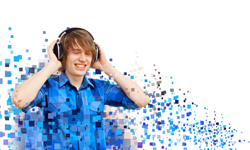 Mixonic remains focused on providing relevant and robust media and merchandise production services
San Francisco, CA (PRWEB) September 10, 2014
An online leader in the production of custom media products and promotional merchandise, Mixonic has announced the addition of two new services to its online platform of audio and video production and manufacturing services. Serving the needs of businesses, musicians and organizations of all sizes, Mixonic expands it CD, DVD and Blu-ray offering with the addition of both audio mastering and tape and film digitizing.
Mixonic's new online audio mastering service allows musicians to upload their unmastered, mixed tracks easily and quickly and provide detailed comments to mastering engineers on how they want their tracks to sound. Mixonic's mastering studio provides the essential final step that brings professional volume and sonic clarity and impact to a track before either digital distribution or CD manufacturing. Mixonic offers three levels of audio mastering services to meet all budgets, including a premium service fulfilled by a legendary Hollywood studio that has mastered albums for major recording artists for decades.
With its tape & film digitizing service, Mixonic allows corporate customers, educational institutions and government agencies with large collections of archived tapes and film, as well as consumers and studios, to convert their media assets into digital. Tape and film degrade over time and digitization is a way to keep historical video and audio ready and available to view, edit and archive.
Mixonic continues to offer its DVD and Blu-ray authoring product, now with the addition of expanded pricing and direct-to-cart shopping. Mixonic's video authoring allows customers to add menus, audio and graphics, including interactive elements, to their DVD and Blu-ray projects and enables end users to navigate and access different assets or files easily and conveniently.
The expansion of its audio and video suite of services complements Mixonic's current CD, DVD and Blu-Ray services. "Mixonic is already a leader in short-run disc manufacturing. With this larger suite of AV production services, we are able to more completely serve the digital and physical media needs of our customers. These expanded services are essential to all customers, allowing them to improve the quality of their projects and providing them a convenient, single-source supplier", said Bob Jacobson, President and CEO of Mixonic. He added, "Mixonic remains focused on providing relevant and robust media and merchandise production services, and continuing to expand with the needs of our clients".
Mixonic customers can get pricing, set up and place orders, and track their projects, all online 24/7.
About Mixonic
Founded in 2001, San Francisco-based Mixonic is a custom media and merchandise production company. Mixonic is an online leader in disc production and pre-production services, and offers a wide array of customized promotional products and merchandise including t-shirts, hoodies, totes & bags, hats, USB flash drives and posters and flyers. Mixonic focuses on retail and wholesale orders of 50 to 5,000 units and has produced and shipped projects for over 100,000 unique customers, ranging from Fortune 500 corporations to small and mid-sized businesses to independent musicians and filmmakers. The Company's retail website enables customers to easily create, order and track projects online 24/7. For more information please visit http://www.mixonic.com