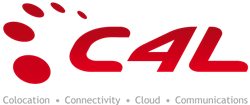 (PRWEB UK) 9 September 2014
Fusion WiFi have taken a full rack, with 25Mb transit on a 1 Gbps port at C4L's Bournemouth Data Centre, to house their core routing equipment connecting them to the internet. This collaboration means the connectivity infrastructure is made into an easy to use service and a simple access one at that with Fusion WiFi providing social media platform logins to shortcut the connecting process.
In highly congested areas, normal cellular signal is difficult to find, so that is why this year with millions of locals and tourists heading to the South Coast beach to watch the spectacular aircraft displays, the free public WiFi has been installed. The internet access allows the festival to be much more interactive enabling attendees to stay connected and share their experiences immediately.
About C4L
C4L is a Colocation, Connectivity, Cloud and Communications provider headquartered on the South Coast of the UK. They own and operate a high specification data-centre in Bournemouth, as well as providing colocation services to over 100 UK data centres and more than 300 globally. C4L's coreTX network is one of the UK's largest Data Centre networks, the multi Tbps, high performance MPLS network links data centres across the UK, using a diverse fibre optic backbone and DWDM technology. It's VMWare and IAAS cloud platforms further leverage coreTX and the wide Data Centre footprint to offer industry leading Cloud performance, an approach replicated in delivering VoIP services to its wholesale Communications partners.
C4L clients include government agencies, FTSE 250 companies, international financial institutions, system integrators, top 100 VARs, resellers and many of the UK's network carriers. Our entire business is committed to customer satisfaction and quality of service and has achieved certifications such as ISO9001 & 27001 to demonstrate this.
For more information visit http://www.C4L.co.uk/pr, or Tel: Jade Yarham +44 (0)8000 470 481 Ext 736