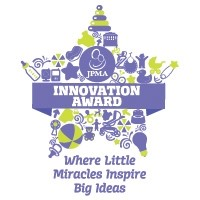 Mount Laurel, NJ (PRWEB) September 08, 2014
The Juvenile Products Manufacturers Association (JPMA) is pleased to announce the winners of the 2014 Innovation Awards Competition. Internationally recognized, the Innovation Awards highlight some of the most exciting new products in the marketplace today. More than 100 cutting edge products were entered, nine winners and one overall Best In Show were selected by a panel of industry judges and one company won the Parent's Pick Award, voted on by more than 1,500 moms and dads from across the country.
The 2014 Innovation Award Winners are:
Feeding/Bathing/Changing Category: Wow Baby Spill Free 360 Cup By Wow Gear LLC- The Wow Baby transition cup features the Wow Cup's patented 360 degree spill free drinking valve. Drink through gentle sucking without the need to press buttons, move levers, or sip on straws and spouts. The 360° Uni-Flow™ drinking edge allows you to just pick up the cup and drink anywhere along the rim. After drinking, the valve automatically seals itself until you take another drink. Spills are virtually eliminated by our patented automatic EVEN-SEAL™ technology and the Wow Baby cup is BPA & PVC Free and Dishwasher Safe. Featuring the NEW Comfort Lip Edge for easier and more natural drinking.
Booth Number: 5322, http://www.wowcup.net
Safety Category: Buddy Tag by Le Vise Products - Buddy Tag is a child safety wristband that works in conjunctions with a free downloadable app for iPhone and Samsung phones. With Buddy Tag, parents can cast a virtual safety net to keep their children safe. Buddy Tag alerts the parents when kids wander too far away, so it prevents kids from getting lost. Buddy Tag sounds an alarm on parents' phones if a child wearing Buddy Tag fell into a pool or lake, so it helps prevent accidental drowning. There is also a Panic Button on Buddy Tag allowing the child to alert parents when in fear! Booth Number: 4532, http://www.mybuddytag.com
Child Restraint Category: Doona Car Seat By Simple Parenting- World's first 0+ infant car seat with integrated wheels. Supported by global Engineering, Safety and Medical experts, Doona™ was designed, to achieve maximal protection and comfort for the baby both in and outside of the car. Certified as both a car seat and a stroller, Doona™ meets the highest quality & safety standards. It includes a double-wall structure that enhances side impact protection, an ergonomic cushion, specifically designed to support a newborn when seated in a car seat, and a unique handle, which serves as an effective anti-rebound bar and more. Booth Number: 3325, http://www.simpleparenting.co
Nursery Category: Duux Bluetooth® Baby Protector with Lullabies and Nightlight by Duux International - Turn your child's room into a sky full of stars and play their favorite music or voice recorded messages over Bluetooth® with your smartphone, tablet or PC/Mac. The Dutch designed device features multi-color animated projections, a separate night light and 4 pre-programmed lullabies that can be controlled with sleek capacitive touch keys. It has a built-in microphone that works as a sound activator; once your child suddenly starts crying at night, the projector will automatically activate and start projecting . The auto shut down timer makes sure the projector won't stay on all night to reduce power consumption. Booth Number: 1540, http://www.duux.com
Play/Entertainment Category: SoapSox - SoapSox® is the next generation of wash clothes for kids. Each character has a soft terry cloth exterior and an anti-microbial sponge interior. When filled with soap and water, SoapSox® suds and creates lather for gentle fun cleaning. When bath time is over, simply toss your SoapSox® in the washing machine, and tumble dry on low. SoapSox® was born when founder Ray Phillips, worked at a residential treatment facility for abused children. SoapSox® remains committed to providing safe places for children and give a portion of the earnings to local organizations that provide safe places for children. Booth Number:4530 , http://www.soapsoxkids.com
Infant/Parent Care Category: Love to Dream 50/50 Transition by Regal Lager, Inc. -The Love To Dream 50/50 Transition offers a unique solution to when babies start turning over and need to stop being swaddled. The "arms up" wings have zippers and can be removed when it is time for transition. Unzip one of the wings and let the baby get used to sleeping with one arm out. When the baby is used to this, simply unzip the other wing and you now have a snug sleep sack, regardless of what method of swaddling has been used. The 50/50 offers a snug fit over the torso, while there is plenty of room for the legs and hips for healthy hip development. A two way zipper makes diaper changes easy. Booth Number: 7835, http://www.regallager.com
On The Go Category: Chicco LullaGo Bassinet by Chicco USA -Finally there's a design-forward portable bassinet solution that folds easily, stores in a travel bag, and costs less than $100! The LullaGo bassinet features a sleek design, snap-on leg tubes, a compact folding frame and a padded mattress with a removable pad for easy machine washing. The LullaGo fills the gap between high-end portable bassinets and the more practical entry level units by offering a folding structure, a contemporary look, and a great price. Booth Number: 3441, http://www.chicco.com
Carriers Category: Ergobaby Four Position 360 Carrier - The revolutionary, patent pending Ergobaby Four Position 360 Carrier gives parents four comfortable and ergonomic ways to wear their babies: Back, Hip, Front-Inward, and Front-Outward positions. The carrier's innovative design features a structured bucket seat that keeps baby ergonomically seated in all four positions, with knees even to or above hips and baby's spine in curved "C" position. An extra wide Velcro waistband provides exceptional comfort and can be worn high or low on the waist while providing extra support for the low back. The carrier features an extendable back panel for extra head, neck and back support for baby. Booth Number:1705 http://store.ergobaby.com/
Stroller Category: UPPAbaby Vista Stroller- Its intuitive design folds easily, has multiple configurations, maneuvers like a single and more. Like previous model years, the VISTA is designed to adapt as your family grows. Only its enhancements adjust to changes in life's momentum - be it weather, terrain or life stage - even better than its predecessor. The NEW VISTA can comfortably hold two MESA infant car seats and then adapt to two toddler seats (rear or forward facing) plus a PiggyBack Ride.
Booth Number: 6543 http://www.uppababy.com
The 2014 Judges Pick Winner Is: Cloud Q Infant Car Seat from CYBEX by Regal Lager, Inc. -The first ever infant car seat that, when used on a stroller, can recline completely, becoming a carry cot. A clever mechanism allows the back rest to recline completely, and the foot end of the seat flattens out and extends to perfectly support the baby. While used in the car the CYBEX Cloud Q offers the same outstanding safety as the Aton 2 and Aton Q. The base comes with a Load Leg and the seat also has the telescoping Linear Side-Impact Protection. Booth Number: 7835, http://www.regallager.com/cybex
The 2014 Parent's Pick Award Winner is: Baby Camera 0 Emission by Babymoov -At some level, we all worry about exposure to electromagnetic waves and while there are no conclusive studies about the damage of long term exposure, we know that a child's brain absorbs 60% more waves than an adult one*. Babymoov takes a precautionary approach to this problem by developing the first and only 0-emission video monitor on the market. This patented camera uses the PLC (Power Line Communication) technology to move the emission of the video and audio signals away from the baby's room and into the area of the house where the internet modem and router are located. Booth Number: 6041 http://www.babymoov.eu
Products are evaluated and judged on their innovation, marketability, trend-setting potential, appeal and usefulness. Special thanks go to the selection committee of trade media representatives and retail buyers:
Paul Banas, Pregnancy Magazine.com Andrea Stanley, Fit Pregnancy
Nanci Gregg, Baby & Children's Product News Joe Roedler, Baby Grand
Hollie Schultz, Baby Gizmo Jamie Grayson, The Baby Guy NYC
Susan Jones, Kids Today Pam Ginocchio, Project Nursery
Lindsay Pinchuk, Bump, Club and Beyond
"Every year the JPMA Innovation Awards champion a new crop of products that help make parents' lives with baby easier, better and safer—and this year is certainly no exception," remarked Andrea Stanley, Lifestyle Editor For Fit Pregnancy, sponsor of the awards program. "The advancements in baby gear the 2014 JPMA Innovation Awards winners have introduced are innovative, fresh and rich with thoughtful details and smart design. A well-deserved congratulations to the winners."
The Innovation Awards Competition started in 1989 as the Most Innovative Product Contest and has evolved through the years to a highly recognized competition. It was officially named the "Show Off" Product Competition in 1992, however in 2003 JPMA renamed the contest to the Innovation Awards to more accurately represent the focus on innovation.
The Juvenile Products Manufacturers Association is a national trade organization of more than 250 companies in the United States, Canada and Mexico. These companies manufacture and/or import infant products such as cribs, car seats, strollers, bedding, and a wide range of accessories and decorative items.
For more information about JPMA or the 2014 Innovation Awards contact: 856-642-4416; email jpma(at)jpma(dot)org, visit http://www.jpma.org or connect with us on Twitter/JPMA and Facebook.
###
CONTACT:
Amy Chezem,
609-410-6590/ achezem(at)jpma(dot)org