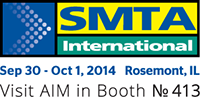 Cranston, Rhode Island (PRWEB) September 09, 2014
AIM Solder announces the company's participation at the annual SMTA International Technical Conference & Expo, held September 28 – October 2, 2014 at the Donald Stephens Convention Center in Rosemont, Illinois. Along with exhibiting their full line of solder assembly materials in booth #413 during the expo, AIM experts will be presenting several papers throughout the Technical Conference on three prevalent topics in the electronics industry.
The first white paper entitled "Conformal Coating Over No Clean Flux: Part II", will be presented by AIM's Technical Marketing Manager, Timothy O'Neill. In this paper, O'Neill will review AIM's prior studies on the feasibilty of applying conformal coating over no clean flux resides. The findings of these initial studies led to further testing to better understand the varibles that impact performance and to assess the impact of advancements in both coating and flux technologies. This presentation is scheduled during session MFX3: Polymeric Assembly Materials on Tuesday, September 30 at 4:00pm in Room 49.
Karl Seelig, Vice President of Technology of AIM will present his white paper titled "J-STD-004B: A New Twist on an Old Standard". IPC J-STD-004 was updated about 5 years ago, and with the integration of designations from the old and new standards in industry literature it has created a lot of confusion among users. Seelig covers the different components to flux designation and explores what changed, what didn't, how it affects flux selection criteria and what a user needs to know. Seelig's presentation is scheduled on Wednesday, October 1st at 4:00pm during the AAT7: Low Temperature Assembly, Fluxes and Standards session in Room 44.
AIM's final paper, "Lessons Learned from AIM's Participation in the CFTI," focuses on a new trending topic among manufacturers, the Dodd-Frank Act and conflict minerals supply chain compliance. David Suraski, Vice President of AIM's Electronics Assembly Division, discusses AIM's participation in and insight gained through the company's early involvment with the Conflict-Free Tin Initiative. Suraski will provide a detailed look inside the Conflict-Free Tin Initiative (CFTI) supply chain system that tracks all materials from the DRC (and other conflicted regions) by lot, weight and location of manufacturing. This informative and leading-edge session will be Wednesday, October 1st during the EMS1: Supply Chain Conflict Minerals Compliance session at 4:00 pm in Room 51.
For more information about AIM's products and services, including lead-free and halogen-free solder products and SN100C, visit the company at booth 413 at SMTAI or visit http://www.aimsolder.com.
About AIM
Headquartered in Montreal, Canada, AIM Solder is a leading global manufacturer of solder assembly materials with manufacturing, distribution and support facilities located throughout the world. AIM produces advanced solder products such as solder paste, liquid flux, cored wire, bar solder, epoxies, lead-free and halogen-free solder products, preforms, and specialty alloys such as indium and gold for a broad range of industries. A recipient of many prestigious SMT industry awards, AIM is strongly committed to innovative research and development of product and process improvement as well as providing customers with superior technical support, service and training.
Upcoming Events:
Sept 24-25, 2014 – Proveedor Automotriz 2014 Booth #11 – Mexico
Sept 30-Oct 1, 2014 –SMTA International Booth #413 – Chicago, IL USA
Oct 15, 2014 – SMTA Long Island – Islandia, NY USA
Oct 21, 2014 – SMTA Guadalajara – Guadalajara, Mexico
Oct 21, 2014 – SMTA Connecticut Chapter – Waterbury CT, USA