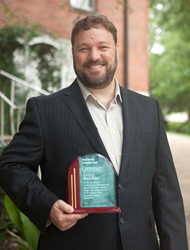 I like to think I am fulfilling David's legacy by building a positive, engaging, and inclusive student culture.
Shreveport, LA (PRWEB) September 08, 2014
Dean of Students, Mark Miller, received a big checkmark this week when Centenary President David Rowe awarded him the 2014 David Womack Leadership Award at the fall semester Opening Session for faculty and staff.
"I asked my four-year-old daughter if she knew what an award was, and she said 'Yes, it's like getting a checkmark for doing something good,'" said Miller. "So that's how she congratulated me the next morning."
The award is named in honor of the influential former Dean of Students David Womack, who passed away in August 2009. Each year, the College's cabinet chooses a faculty or staff member who possesses the same qualities that Dean Womack displayed in bringing the campus community closer together. Miller was chosen based on his dedication to working across divisional and departmental lines, building bridges, and fostering inclusion for members of the Centenary community.
Leadership from Miller was instrumental in the execution and success of the inaugural Centenary in Paris initiative. Working collaboratively with other faculty and staff members, Miller completed extensive research to ensure day-to-day programing for first-year students in Paris was meaningful and enriching.
"Mark Miller is the obvious choice for the Womack award this year simply because of his key involvement in organizing a seamless experience for our students who participated in the Centenary in Paris program," said Dr. Dana Kress, Chair of the Foreign Language Department. "He arranged for housing, food, travel, and orientation within the context of an international educational experience for more than 100 first-time college students who had just arrived on campus. At the same time he managed a staff who readied the campus for the arrival of the entire student body. Who could do all that? As the French say, Chapeau Mark!"
Miller was the first person to hold the title Dean of Students after Womack's untimely death.
"I found it inspiring and a little intimidating when I heard stories about David because everyone spoke so highly of him," said Miller. "I had never met him before, but by looking through his files, I could see there were many things I wanted to emulate."
Miller served as the Director of Residence Life and later as the Assistant Dean of Student Life for Centenary from 1998 until 2004 before departing to Duke University where he worked as the Director of Executive MBA programs at the Fuqua School of Business. He returned to Centenary in 2010 as the new Dean of Students.
"I like to think I am fulfilling David's legacy by building a positive, engaging, and inclusive student culture," said Miller. "It's clear that in a very short period of time David had a big impact in changing the dialogue for the better by listening to faculty, staff, and students, something that I think is incredibly important."
Past recipients include Dr. David Hoaas, Chris Lavan, Eddie Walker, and Connie Whittington; individuals with whom Miller is honored to be associated and share such a meaningful checkmark.
###
About Centenary College of Louisiana
Centenary College of Louisiana is a selective, residential, national liberal arts college affiliated with the United Methodist Church. Founded in 1825, it is the oldest chartered liberal arts college west of the Mississippi River and is a member of the Associated Colleges of the South.