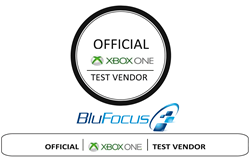 We are honored that BluFocus has been approved as one of only twelve Microsoft Xbox authorized test vendors in North America
Los Angeles, CA (PRWEB) September 09, 2014
BluFocus Inc., a leading testing and certification company for the entertainment industry, announced today it has been approved as one of only twelve Official Microsoft Xbox AXTP (Authorized Xbox Test Program) test vendors in North America.
The AXTP program consists of Microsoft qualified third-party testing companies that have demonstrated the strong ability to test Xbox applications for compliance and functional requirements in a secure environment. The program is intended to be used by publishers and developers for testing.
"We are honored that BluFocus has been approved as one of only twelve authorized test vendors in North America". said Juan Reyes, BluFocus CTO. "We have been providing developers with testing services for many years having conducted testing for some of the first Xbox SmartGlass applications. Our testing abilities and secure facility have passed Microsoft's extensive review process enabling us to now be official Microsoft Xbox AXTP members. We look forward to continuing to provide our high level of testing and customer service to the many Xbox developers and publishers around the world."
"If publishers and developers require 3rd party testing for their titles prior to submitting to Microsoft for certification, we encourage them to talk to Authorized Xbox Test Vendors," said Rachel Lowinger, AXTP Program Manager. "We're delighted that BluFocus is now part of the AXTP Program."
###
About BluFocus
BluFocus Inc. is a testing, certification and advisory service specialist for the Entertainment industry. BluFocus qualifies technologies, devices, content, apps and software that reside, playback, stream, and/or download for Blu-ray, DVD, Set Top Boxes, Mobile Devices, Displays, Gaming Consoles and more in the areas of broadcast, home entertainment, theatrical, digital distribution, etc. For more information, go to http://www.blufocus.com or call +1.818.294.7605.