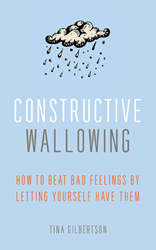 "This wise book is a friend when you are struggling with making sense of your dark moods and brooding thoughts."—Express UK
(PRWEB) September 09, 2014
In an article "Silent treatment: Why it can ruin a relationship," the Chicago Tribune featured Viva Editions author Tina Gilbertson as an expert and counselor. Gilbertson is the author of the recently released Constructive Wallowing: How to Beat Bad Feelings By Letting Yourself Have Them (Viva Editions 2014).
On the topic of using the silent treatment as an argument tactic in a fight, Gilbertson said, "The silent treatment is caused by a combination of hurt feelings and an inability or unwillingness to talk about them. It's easy to think of the silent person as holding the power in the situation, but in reality (she) often feels small and powerless. She really has no idea what to say or do when hurt, so she withdraws."
It is tempting to turn away from menacing, uncomfortable feelings like anger, grief or regret and treat them like unwanted guests. However, ignoring them just seems to make them stick around. By learning to accept, rather than suppress, difficult feelings, people gain greater self-understanding for lifelong emotional health. This is the basis of Gilbertson's book Constructive Wallowing.
Planning to be in the Portland, OR area? See Tina Gilbertson in person at these events:
9/9: Multnomah County Library, Holgate Meeting Room - 6:30pm
9/16: Multnomah County Library, Hillsdale Meeting Room - 6:30pm
9/21: Multnomah County Library Central Branch, U.S. Bank Room - 2pm
9/28: Multnomah County Library, Fairview-Columbia Library - 3:30pm
10/4: Multnomah County Library, Belmont Meeting Room - 4pm
10/5: Multnomah County Library, Sellwood-Moreland Meeting Room - 1pm