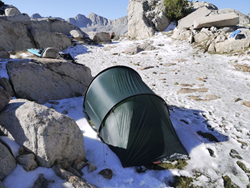 A quality tent is arguably the single most important component of building a multi-day gear kit.
Cheyenne, Wyoming (PRWEB) September 09, 2014
OutdoorGearLab.com a website know for its comprehensive side-by-side comparison reviews, has recently set live their updated best backpacking tent review that includes not only a detailed analysis of twenty three two person tents but also includes an informative buying advice article as well. After testing top of the line products for several seasons while on camping and hiking outings everywhere from Alaska to Maine on route through the High Sierras and more, feedback from fifty reviewers has been compiled to determine the Editors' Choice, Top Pick and Best Buy award winners.
The winners are:
Hilleberg Anjan 2
Once again the Anjan 2 has won the OutdoorGearLab Editors' Choice award. Gear review Editor, Jessica Haist explains why, "The Anjan 2 is a favorite among our reviewers. It is constructed with very sturdy materials and its tunnel design stands the test of time. It is versatile, durable, weather resistant and adaptable to everything from car camping to backpacking and our reviewers even found it more than suitable for kayaking, bicycle touring and more. For its weight class (3.6 lbs.), the Anjan is unmatched." Haist also points out that though the Anjan is not ultralight, it was more comfortable, durable and stronger than all of the products tested.
REI Half Dome 2 Plus
The Half Dome 2 won Best Buy award for having the most room for its weight, for being pretty strong and a great value overall. According to Haist, "The Half Dome 2 is a great buy for the price. It is a very good tent with more than ample storage area and ventilation, and it is quite comfortable."
Mountainsmith Morrison 2
The Mountainsmith Morrison 2 is also a Best Buy award winner. The Morrison 2 won this award as well due to its ease of set up, roomy interior and excess of features. Gear Editor, Haist states, "The Morrison 2 is not only attractive, but has a lot of extra features that make it very comfortable. This product is easy to set up and its price range makes it an excellent value." Haist does mention that the extra features such as mesh panels and double zip entryways do add to its weight. The Morrison 2 is highly recommended in the review for shorter backpacking or paddling excursions and car camping.
This review also has two Top Pick award winners. The Top Pick award is granted to the products that excel at certain applications.
Terra Nova Solar Photon 2
The Terra Nova Solar Photon 2 is winner of the Top Pick award because it is the smallest when packed and has the largest vestibule in its category. It is almost the lightest contender tested, has excellent ventilation and is constructed with super strong fly and floor materials. Gear Editor, Chris McNamara reports, "The Solar Photon was our favorite for ultralight adventures because it so light and compact. Our testers also found that is was more protective and comfortable than most of the contenders in its class." McNamara does state that Terra Nova products are not available from most online retailers and can be hard to find.
MSR Hubba Hubba NX
The MSR Hubba Hubba NX received its Top Pick award for being the most lightweight and versatile two door model tested. Haist reports, "The Hubba Hubba is light, well ventilated and has two options for light and fast pitching. MSR has redesigned this model so well that they have managed to lighten up the Hubba Hubba by nearly a pound." Haist recommends this product as being great for backpacking but mentions that it is not likely to be as durable at the Editors' Choice award winner the Anjan, but she reminds readers that it is also lighter and less expensive.
OutdoorGearLab LLC is a company headquartered in Cheyenne, Wyoming that is dedicated to publishing the world's best outdoor gear reviews. The company performs side-by-side real world testing of outdoor gear and publishes the results in comparative reviews. Each product is scored across a range of weighted categories, competing products are ranked, and awards are granted to top performing products. The company's website outdoorgearlab.com, is a free resource for people who love the outdoors and participate in activities such as hiking, climbing, backpacking, and camping.