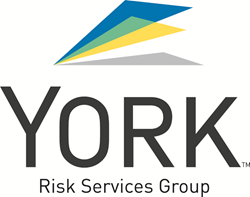 Parsippany, NJ (PRWEB) September 11, 2014
York Risk Services Group (York), a premier national provider of claims management, managed care, risk management and specialized loss adjusting services, today announced its acquisition of Donald K. Sams and Associates, Inc., (Sams & Associates), a leading independent adjusting company headquartered in Granite Bay, CA. The terms of the transaction, which was effective September 2, 2014, were not disclosed.
Sams & Associates provides a wide array of claims adjusting services in 12 western states and private investigative services in California. Don Sams, founder of Sams & Associates, will assume the role of President of the York Field Services Division. He will continue to be based in the Granite Bay office.
"Combining the expertise and geographic footprint of Sams & Associates with our established York Field Services team strengthens our property and casualty service offerings to all our clients, and we are looking forward to expanding this key service area under Don's leadership," notes Danny Miller, President of York Specialized Loss Adjusting. "In addition, this acquisition also helps York continue to build the bench strength of our Specialized Loss Adjusting team of General Adjusters."
"We are pleased to be joining York Risk Services Group," said Don Sams, "Both companies share a commitment to delivering high-quality claims management to and building long-term relationships with our clients. Becoming a part of York allows us to expand the services and expertise we offer clients as well as the opportunities we offer our employees," Sams added.
About Sams & Associates
Donald K. Sams & Associates, Inc. was founded January 1st, 1990 in Emeryville, CA by Don Sams. Sams & Associates has grown to become one of the leading independent adjusting firms in the western United States. Sams & Associates provides commercial and residential claim adjusting, TPA, contract claim department and special investigation unit services to their clients.
About York Risk Services Group
York Risk Services Group Inc. is a premier provider of risk management, claims handling, specialized loss adjusting, managed care, pool administration, loss control and other insurance services nationwide. York provides risk management and managed care solutions to a variety of strategic partners, including insurance carriers, self insureds, brokers, wholesalers, MGAs, programs, risk pools and public entities and delivers customized claims solutions for all lines of business, including property, liability, products liability, ocean and inland marine, environmental, transportation and logistics, construction and workers' compensation. Based in Parsippany, New Jersey, York has more than 4,000 employees in 85 offices throughout the United States.
For more information, contact:
Wm. Ritchie Vener
Chief Marketing Officer
York Risk Services Group, Inc.
Tel: (973) 404-1223
E-mail: Ritchie(dot)Vener(at)yorkrsg(dot)com