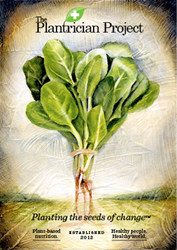 The evidence overwhelmingly supports whole food, plant-based nutrition as the most efficacious means of reining in our alarming chronic disease trends—we refer to it as 'the ultimate prescription.'
San Diego, California (PRWEB) September 10, 2014
Starting with the International Plant-based Nutrition Healthcare Conference, The Plantrician Project has been established to fill the void in educating physicians and clinicians about the therapeutic use of whole food, plant-based nutrition in preventing, suspending and, often, even reversing the looming pandemic of chronic disease that's facing the U.S. and many other nations.
"With few exceptions, medical educations is founded on an allopathic approach of diagnosing and treating disease, which all too often means prescribing medication and expensive treatments," said Scott Stoll, MD, co-founder and board chairman of The Plantrician Project. "Yet, the evidence overwhelmingly supports whole food, plant-based nutrition as the most efficacious means of reining in our alarming chronic disease trends—we refer to it as 'the ultimate prescription.'"
Dr. Dean Ornish's landmark study in 1990 in The Lancet, Can Lifestyle Changes Reverse Coronary Heart Disease?, concluded that heart disease could be reversed without drugs or surgery. In 2009, The American Journal of Cardiology published a paper entitled Mostly Plants by Dr. Ornish, chronicling evidence that concluded a plant-based diet as optimal. Ornish's research concluded that a plant-based diet can halt and reverse the progression of even severe coronary artery disease, also treating hypertension, obesity, cholesterol and diabetes. "Many people tend to think of breakthroughs in medicine as new drugs, lasers, or high-tech surgical procedures," said Dr. Ornish. "They often have a hard time believing that the simple choices can be as powerful as drugs and surgery, but they often are—sometimes, even better."
A research paper published in the July 2014 Journal of Family Practice, co-authored by Plantrician Project Board Member Caldwell Esselstyn, Jr., MD, concluded that nutritional intervention, specifically plant-based nutrition, halted and even reversed coronary artery disease. "It's exciting when you treat causation of disease," says Dr. Esselstyn. "It's prompt, powerful and persistent; the power of this option needs to be clearly communicated to patients."
Kicking off next week in San Diego, CA, The Plantrician Project will present the second annual, CME accredited International Plant-based Nutrition Healthcare Conference, showcasing names like Drs. Ornish, Esselstyn, Campbell, Greger and many others who are helping to lead the movement to transform health and healthcare.
ABOUT THE PLANTRICIAN PROJECT:
It's a movement! As a 501c3 approved not-for-profit organization, The Plantrician Project produces the International Plant-based Nutrition Healthcare Conference. This CME accredited event is just one medical education program of a multi-faceted initiative dedicated to educating, equipping and empowering medical practitioners and their patients and clients with the educational tools and resources needed to inspire their shift from the Western industrialized diet to a life-changing, plant-based way of living. This is essential to our ability as a society to usher in both sustainable human health and a sustainable healthcare system. The Plantrician Project transcends the food=health vs. food=disease equation in that it also connects the dots between our food choices and their impact on many of the global sustainability issues we face—including our ability to feed the world's burgeoning population. Visit PlantricianProject.org and FoodMath101.org for details.
ABOUT THE INTERNATIONAL PLANT-BASED NUTRITION HEALTHCARE CONFERENCE:
Leading experts in preventive, nutritional medicine will be presenting at the second annual International Plant-based Nutrition Healthcare Conference, September 17-20, 2014 in San Diego, California. This CME accredited medical conference will educate gatekeepers of dietary-related advice—our nation's physicians and allied health professionals—about the nutritional science and efficacy of whole food, plant-based nutrition and its proven ability to prevent, suspend and even reverse disease. The review of current and progressive scientific research will be presented with a commitment to intellectual integrity, without bias or influence. Visit http://www.pbnhc.com for details.