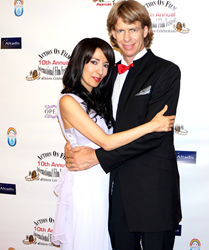 I got lucky and was able to cast in this web series two Second City alumni, Julie Raelyn and David MacAulay.
Los Angeles, California (PRWEB) September 10, 2014
Actress/screenwriter/director Luciana Lagana's ten-minute stand-alone trailer for her comedy web series "Intimate Temp Agency" will screen on 9/13/2014, between 3:15 and 5:05 pm, as part of a block of short films that are finalists at the California International Shorts Festival. The event will occur at The Complex Theater, 6476 Santa Monica Boulevard, Hollywood. The full lineup for this block of films is: The Ramona Flowers Tokyo, Mr. Maple Leaf, Where We Start From, Intimate Temp Agency, Five Minutes to Judgement, and Grape.
Intimate Temp Agency is a quirky show in which two exes decide to cater to eccentric job candidates who need special care and attention as they try to land strange but lucrative temp jobs. Luciana's husband,actor and screenwriter Gregory Graham, plays her uptight ex and the owner of the agency. This show has also been accepted at the Action on Film International Film Festival in Monrovia, CA, and at the Sir Charlie Darwin Film Festival in London. Its 12 three-minute episodes are currently in post-production.
In addition to working on social issues projects that are related to her work as a psychology professor, such as the Dr. Luciana show on aging and falling, Luciana enjoys creating light-hearted shows and films, with the intent to put a smile on people's faces. Displaying a passion for comedy since she was a teen, she was once part of a comedic touring theater company in Italy. She has continued to hone her craft here in Hollywood and has completed numerous acting courses, which include the Second City Improvisation for Actors series of classes. "I got lucky and was able to cast in this web series two Second City alumni, Julie Raelyn and David MacAulay," stated Luciana. The web series also includes French actor Benoît Laberge, who plays the part of the overly-assertive Frenchman who is the enemy of a well-mannered and patient mafia man played by MacAulay.
At present, Luciana is especially excited about showcasing her web series at this festival. "I look forward to answering the questions posed during the Q and A session about my show," she concluded.
Tickets can be purchased on the Internet at http://calshorts.info/Cal_Shorts_Info.html. Ticket price: $13 for the two-hour film block.
Written by Kristyan Kouri, Ph.D.
http://www.kristyankouri.com
Luciana Lagana is a caring clinical and experimental psychologist and an established professor of psychology, gerontology, sexuality, and women's health at California State University Northridge (CSUN), where she teaches classes and mentors many students. At CSUN, she also conducts government-funded research on ethnically diverse, primarily low-income older women's physical, psychological, social, and sexual health. Concerning her artistic pursuits, since 2006, she has been studying acting and hosting in Los Angeles. Luciana is an award-winning actress and screenwriter, with 39 IMDb credits for acting in independent movies and TV series.