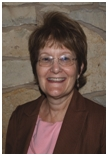 Greensboro, NC (PRWEB) September 11, 2014
Karen Hauser, of St. Joseph, Missouri, has been elected Chair of the Board of Trustees for the NBCC Foundation. She will chair her first meeting in September, in Jacksonville, Florida.
Hauser is a licensed professional counselor in Missouri, a National Certified Counselor (NCC) and a Certified Clinical Mental Health Counselor (CCMHC). She holds a doctorate in administration from Southern Illinois University Edwardsville and a master's in counseling from Eastern Michigan University in Ypsilanti. She previously served as chief executive officer of Catholic Charities of Salina, Inc., a private social services agency that provides numerous programs and services throughout 31 counties in Kansas. Hauser's areas of expertise include counseling, clinical assessment and measurement, public relations, legislative advocacy, fund development, grant writing, and personnel management and staff supervision.
The NBCC Foundation is a 501(c)(3) nonprofit philanthropic organization with the mission of leveraging the power of counseling by strategically focusing resources for positive change. The Foundation is an affiliate of the National Board for Certified Counselors (NBCC), the nation's premier professional certification board for counselors who meet standards for the general and specialty practices of the profession. The Foundation provides scholarships to graduate students in counseling, administers the NBCC Minority Fellowship Program (NBCC MFP), and assists developing countries to increase access to counseling services through special projects and training. The Foundation uses 100 percent of donor contributions to fund its programs. More information about the NBCC Foundation is available at http://www.nbccf.org or by telephone at 336-232-0376.