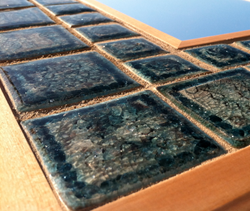 I wanted to combine my love for clay with environmental consciousness and reusing broken glass was a natural fit!
Ferndale, WA (PRWEB) September 11, 2014
Paloma Pottery began in 2000 as a home-based artisan business - transforming recycled glass and clay into awe-inspiring works of art. For the month of September, customers receive a 15% discount on all items in their Wall Art series. This includes a pretty fantastic range of pieces for beauty and function.
On the simple end of the spectrum, Paloma offers a set of Wall Hooks pieces, available in the Maple Leaf, Heart or Butterfly designs. On the more sophisticated end are their Mosaic Mirror pieces. These gems are a composite of 20 - 100 individually crafted shimmering tiles surrounding the mirror surface. This is the picture of elegance in design. At 15% off, some of their most stunning pieces will now be considerably more affordable than ever.
Based on the Salish Sea of northwest Washington, their designs and concepts are borne of the stunning beauty of the land and sea surrounding them. A love for the environment and a drive to protect and honor it have always been guiding principles. "I wanted to combine my love for clay with environmental consciousness and reusing broken glass was a natural fit!" founder Nicole Whitney says.
These principles have taken them on a journey of growth and blossoming for nearly 15 years now. According to customer reviews, the excellent, professional-grade service is a big part of their success as well. The company boasts an impressive record of satisfaction with punctuality, responsiveness and care to details.
Longing to bring some handmade class to the home office or business? This is a great opportunity to secure some unique pieces to transform any working space. The subtle presentation of the Wall Clock lends itself beautifully to offices, waiting rooms and studios. A massage studio may be the ideal place for a Sconce Candleholder - where the crackle glass backing captures the light of the flame and sends a radiant blaze into the room.
Also in this list are the crackle glass Picture Frames, which make wonderful adornments or gifts - and the Garden Stepping Stones, art for the garden or home. So all tastes and budgets are sure to find a suitable treasure this month. Shoppers simply complete a transaction by September 30, 2014, to receive 15% off any Wall Art treasure. A truly wonderful way to bring to beauty of the natural world indoors.
About Paloma Pottery:
Paloma Pottery has been online for 14 years now, and the mark of endurance shines through its work. Continually improving and expanding her line, Founder Nicole Whitney has grown Paloma Pottery into a thriving artisan presence. For those who are seeking exceptional quality gifts with a unique, eco-friendly design as well as solid business ethics, PalomaPottery.com is the place. For more information, please visit http://www.palomapottery.com or call 877-669-0783.