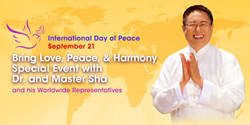 Honolulu, Hawaii (PRWEB) September 10, 2014
Dr. and Master Zhi Gang Sha, founder of http://www.drsha.com and the New York Times bestselling author of Soul Healing Miracles, is launching a soul healing movement around the world that will recognize the International Day of Peace, September 21 at 8:00am HST (11:00am PST; 2:00pm EST; 7:00pm UK) with the largest proposed Global Meditation for World Peace ever through his Soul Healing Miracles Chanting Channel: https://lovepeaceharmonymovement.drsha.com/peace-day
Dr. and Master Sha, creator of Soul Mind Body Medicine™, will lead hundreds of thousands of people to sing, chant, and meditate to bring awareness to this important day through a global broadcast based in Maui. Master Sha will teach how individuals can heal the world with their own Soul Healing Miracles that will include a live Soul Song concert. To join this massive growing meditation movement, go to: https://lovepeaceharmonymovement.drsha.com/peace-day
Dr. and Master Sha will lead a spiritual healing hour at a time when the world seems off balance, plagued by never-ending wars, terrorism, and random acts of violence in every news headline. Because people are seeking answers and solutions for healing, Dr. and Master Sha will give simple instructions on how to use creative visualization with repetitive positive vibrations that can help heal the world.
Participants will then be invited to learn and experience the principles of Soul Healing Miracles created by Dr. and Master Sha, to help them find a path to harmony with the universe, achieve balance in their lives, cleanse their karma, be of service to others, and live a life that fulfills their soul's purpose.
Modern medicine focuses on matter inside the cells. Traditional Chinese medicine and many other healing modalities focus on the energy between cells. Dr. and Master Sha is a spiritual and miracle soul healer who focuses on the bridge between these two traditionally different modalities of thought. His Soul Power approach delivers wisdom to enlighten the soul, resulting in healing for the spiritual, mental, emotional and physical bodies.
"Soul Power focuses on the soul. If a person is sick, the soul is sick," says Dr. and Master Sha. "The soul is a golden light being. Soul is spirit. Soul is message. Soul is the essence of life. Soul is the boss." Dr. and Master Sha believes says that the message of Soul Healing is: Heal the soul first; then healing of the mind and body will follow. ®
Be one of the 1.5 billion people helping the world by joining the Love Peace Harmony Movement™ https://lovepeaceharmonymovement.drsha.com
Dr. and Master Zhi Gang Sha is the world-renowned miracle soul healer. He has created thousands of soul healing miracles worldwide in the last ten years (http://www.youtube.com/zhigangsha). He is the founder of Soul Mind Body Medicine™. He was trained as a conventional medical doctor in China and a doctor of traditional Chinese medicine in China and Canada. The founder of the Institute of Soul Healing and Enlightenment™ and the Love Peace Harmony Movement™, Dr. and Master Sha is a grandmaster of many ancient disciplines, including tai chi, qigong, feng shui, and the I Ching. Master Sha is also an expert in the most advanced cellular healing science now occurring in China. In the West, he is involved in breakthrough research on the effects of spirit on the human system. Dr. Sha was named Qigong Master of the Year at the Fifth World Congress on Qigong. In 2006, he was honored with the prestigious Martin Luther King, Jr. Commemorative Commission Award for his humanitarian efforts.
Dr. and Master Zhi Gang Sha has more than 100,000 followers on Facebook and an additional 250,000 devotees worldwide. The Soul Healing Miracles™ Chanting Channel fosters a soul healing community to learn and use chanting and soul songs for personal, spiritual, mental and soul development, 24/7. Dr. and Master Sha's Soul Healing Miracles™ Daily Live TV airs everyday on Livestream, 9am PT, 12pm ET. Master Sha's national television show, The Divine Soul Song Series airs several times each week across the US, as well as worldwide on on TelosTv.com's worldwide digital network and http://www.DrSha.com.