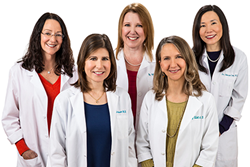 "Following our own unique patient-based approach to breast care on an Out-of-Network basis, we have been able to achieve our vision of 100% effective early detection so women do not need to live in fear of breast cancer,"said Dr. Nancy Elliott MD, FACS.
Montclair, New Jersey (PRWEB) September 12, 2014
Dr. Nancy Elliott, MD, FACS and Dr. Marcie Hertz, MD, FACS were recently selected as Top Doctors by Montclair Magazine, Montclair, NJ. Only 5 % of area doctors have received this prestigious honor.
"I am pleased with this honor, and am especially gratified that it comes as we achieve 100% early detection of breast cancer for established Montclair Breast Center patients, and studies have shown that, when detected early, the chance for successful treatment of breast cancer is nearly 100%," said Dr. Nancy Elliott, founder of Montclair Breast Center, Montclair, NJ and one of the first Fellowship-trained breast surgeons in the United States. Dr. Elliott has been a pioneer in the art of early detection since establishing her own practice in 1989. Dr. Elliott says, "By following our own unique patient-based approach to breast care on an Out-of-Network basis, we have been able to achieve our vision of 100% effective early detection so women do not need to live in fear of breast cancer."
"I appreciate being named a 2014 Top Doctor by Montclair Magazine and thank my peers for their recognition," said Dr. Hertz, who's interest in breast diseases began early in her career as a young attending surgeon and Assistant Professor of Surgery at the Albert Einstein College of Medicine, where she rose to the position of Director of the Breast Service. Dr. Hertz joined Montclair Breast Center in 1994. Dr. Hertz says, "I believe that through a miraculous melding of advanced technology and clinical experience, applied with empathy and compassion, we are eliminating breast cancer as a life threatening disease for our patients."
The list of 2014 Top Doctors awardees were selected by MSP Communications, publisher of Super Doctors, using a rigorous multi-step process designed to identify physicians who have attained a high degree of peer recognition and professional achievement. Area doctors are asked to nominate colleagues they know to be exceptional in their specified field and to consider the following question: "If you needed medical care in one of the following specialties, which doctor would you choose?"
Dr. Nancy Elliott completed training in breast disease at UMDMJ/ Robert Wood Johnson University Hospital. She received her medical degree from Mount Sinai Medical Center and completed a general surgery residency at St. Vincent's Hospital, both in New York City. She established Montclair Breast Center in 1989. Dr. Elliott is well known not only for medical expertise in the field of breast disease evaluation and treatment, but particularly for her sensitivity and commitment to her patients. She has been honored by the New Jersey General Assembly and Montclair Economic Development Council as "Outstanding Woman of the Year in Science," for her distinction as the founder and director of the Montclair Breast Center and as a "superlative physician who exemplifies the spirit of caring and compassion." In addition to Montclair Magazine's Top Doctors award, Dr. Elliott was named a 2012 Jersey Choice Top Doctor in New Jersey Monthly's annual survey of New Jersey doctors.
Dr. Hertz has dedicated herself to the practice of breast surgery since joining Montclair Breast Center. She received her undergraduate degree from Cornell University and her medical degree from Albert Einstein College of Medicine. She completed her residency and chief residency in general surgery at the Montefiore Hospital and Medical Center. She is an author of multiple research publications, and has been involved in medical research on various aspects of breast disease.
Montclair Breast Center was designated as a Breast Imaging Center of Excellence by the American College of Radiology. It is a comprehensive breast care facility that provides all needed services and expertise under one roof, including 3D mammography, breast ultrasound, breast MRI, biopsy and breast surgery. "Women concerned about breast cancer need proactive and compassionate care," says Dr. Elliott, "Most women have no idea who is reading their mammogram, yet that makes all the difference in the early detection of breast cancer. Our Fellowship-trained radiologists only read breast images — mammograms, breast ultrasounds and breast MRIs — so their level of experience and expertise is unsurpassed. Our patients meet with one of our breast imagers to personally review their mammogram results."
For more information, visit Montclair Breast Center, or call 973-509-1818.
About Montclair Breast Center
Montclair Breast Center is a premier multidisciplinary breast center located at 37 N. Fullerton Avenue in Montclair, NJ, specializing in proactive breast healthcare, risk-reduction techniques and the early detection and treatment of breast cancer. Our nationally recognized, dedicated team of breast imagers and breast surgeons use the most sophisticated technologies housed in our own facility and are committed to providing the best possible rate of early detection. Between June 2011 and June 2014, 100% of Montclair Breast Center's established patients — those having consecutive annual screening mammograms performed here — who were found to have breast cancer were diagnosed at the most treatable Stage 0, Stage 1 and very rarely Stage 2. For more information about Montclair Breast Center and the 2014 Patient Outcomes Statistics, visit http://www.montclairbreastcenter.com. In 1998, Montclair Breast Center became an out-of-network breast center to provide care solely dictated by the needs of our patients, uncompromised by the restrictions and limitations imposed by managed healthcare corporations.