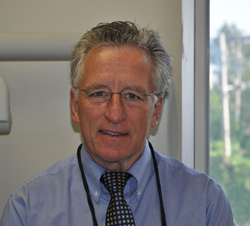 Braintree, MA (PRWEB) September 10, 2014
Dr. Thomas Mone celebrates Self-Improvement Month by offering the opportunity for patients to address their oral health issues through the treatment options available at his practice, Mone Periodontics. While there are many different and varied treatment options available through Mone Periodontics, patients suffering from bleeding gums in Braintree, MA may be particularly interested in LANAP® laser surgery, a minimally invasive gum disease treatment that does not require the use of scalpels or sutures.
The LANAP® protocol is considered minimally invasive due to the fact that the procedure relies on the use of the PerioLase® MVP-7™ in place of a scalpel and sutures. This laser gum surgery technique is able to target the bacteria residing in the pockets of the gums while still preserving the remaining healthy gum tissue. This preservation is appealing, as it not only results in the reduction of gum recession but also in the reduction of the necessary healing time. Given the minimally invasive nature of the procedure and its reputation for effectiveness, patients with bleeding gums in Braintree, MA may very well wish to explore this treatment option as a means for self-improvement.
The presence of bleeding gums is often considered a clear sign of gum disease, which is a very common issue among Americans. The Centers for Disease Control and Prevention (CDC) has warned the public about the prevalence of this disease, noting that 47.1 percent of American adults suffer from some form of gum disease. Many of these sufferers neglect to seek treatment in any sort of expedient fashion, a fact that some attribute to a general apprehension with regard to dental procedures. This apprehension is not necessary with the availability of LANAP® laser surgery, as the minimally invasive nature of the procedure allows patients to be treated with minimal discomfort.
Individuals with bleeding gums in Braintree, MA can take steps toward self-improvement by seeking to address this issue through the use of LANAP® laser surgery. Individuals can begin by calling Dr. Mone's office to schedule an appointment for a consultation, at which point the doctor will be able to discuss the procedure along with any other relevant details relating to the treatment.
About the Doctor
Mone Periodontics is a periodontal practice offering personalized dental care for patients in Braintree, MA. The leading periodontist at the practice, Dr. Thomas Mone, graduated from the University of Massachusetts with a bachelor's degree, and then went on to attend the University Of Pennsylvania School Of Dental Medicine and graduated at the top of his class. He completed his periodontal training at Boston University Goldman School of Graduate Dentistry. Dr. Mone is part of one percent of dental professionals providing the LANAP® FDA cleared laser procedure for gum disease and periodontal treatment. To learn more about Mone Periodontics and their dental services, visit their website at http://www.braintreeperio.com and call (781) 348-9925.