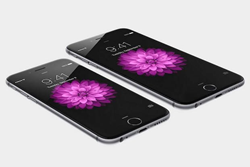 (PRWEB) September 12, 2014
As Apple announces the release of their new iPhone 6, many people ponder the usability and user-friendly features (http://www.zdnet.com/apple-announces-iphone-6-better-specs-new-features-larger-screen-sizes-7000033370/ ) that are provided. Besides their 17.5% and 37.5% screen increase, the most notable feature for Gleason Technology is their Near Field Communications (NFC) capabilities, which is the key ingredient for their already popular GleasonCCPi inspection platform. With growing popularity (already utilized in 16 countries), the team at Gleason is already in the works of building this platform, which bent on the implementation of the NFC capabilities in the new iPhone 6 device, previously not instituted in any other Apple-based product.
"We felt strongly that Apple would understand the importance of utilizing this powerful technology in the iPhone 6," says Gleason Technology President/CEO, Rooney Gleason. "The fact that they did include this feature gives merit to our technology, making it one of the strongest inspection tools available."
For availability of the GleasonCCPi application for the iPhone 6 please contact sales support at 1.800.336.7558. For more information about Gleason Technology, please visit http://www.GleasonTech.com.