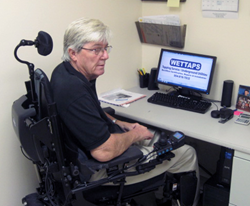 Many doors closed on him because of assumptions about his disability and age, but he just keeps going and contributing to our society. I respect his work ethic.
Sunrise, FL (PRWEB) September 17, 2014
"I didn't hire him because he had a disability. I hired him because he was able to do a specific job that I needed done."
Brian Botting, President of WETTAPS, Inc., is talking about Harry Kember, who has quadriplegia and uses a wheelchair. Harry is the part time estimator at WETTAPS. He got his job through perseverance and persistence and a little help from Vocational Rehabilitation (VR).
Harry found out about VR while he was working for the Center for Independent Living in Broward County. He had always ridden the bus to get wherever he needed to go, but, on this occasion, the bus was late, so he was late for his appointment. His co-worker mentioned that VR might be able to help him with transportation, and Harry decided to give VR a try.
His VR counselor, Lucia Mavrakis, talked to Harry about what services he needed, and together they developed a plan for employment. After guidance and counseling, VR paid for modifications to Harry's van so he could drive himself around town. VR also paid for driving lessons.
"It was totally different," Harry said. "I could now get around without depending on anyone."
When he was laid off from his job in 2011, Harry went back to VR for help with job placement. Lucia paired him up with Ana Davis, a job coach with Jewish Community Services, and she began working with him to update his resume.
"Harry was very active in his job search," she said. "When he sent his resume to a company, he would let me know so I could follow up with them, explain the benefits and tax breaks they could get, and see if they would be willing to hire him."
Even though Harry had reached retirement age, he still wanted to work. "I can't keep still; I just want to do something," he said. "If I can't work, volunteer." He went on a number of interviews, but things weren't looking good. He began contacting former clients to see if anyone needed a part-time employee, and it turned out that Brian did. Harry works three days a week, and because his job is mainly on the computer, he splits his time at the office and at home. "They were willing to work with me."
Brian said that he doesn't see Harry as having a disability: "He's great and a fun guy. I've known him awhile, and the reality is I don't really consider him disabled. He's just a normal guy to me."
Harry is glad he found out about VR. "VR is one of the best things," he said. "I didn't know about VR, and I wish I had known about it before, because Lucia was very good."
Lucia enjoys her work and enjoyed working with Harry. "My experience with Mr. Kember has been an inspiration for me personally," she said. "Many doors closed on him because of assumptions about his disability and age, but he just keeps going and contributing to our society. I respect his work ethic."
About Vocational Rehabilitation
Florida's Vocational Rehabilitation (VR) is a federal-state program committed to helping people with disabilities become part of America's workforce. Our employer-focused website, http://www.FLJobConnections.com, allows businesses to search at no charge for employees who are ready to go to work, as well as to post available jobs. VR has 82 offices across Florida, and last year helped 7,214 Floridians with significant disabilities find or keep a job. For more information about VR and its services, call (800) 451-4327 or visit http://www.Rehabworks.org.