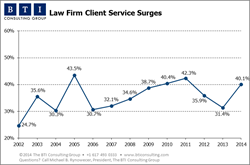 The key is to keep talking to and interacting with your client, and change before your client does.
Wellesley, MA (PRWEB) September 15, 2014
Client investment in law firms jumps after a 3-year decline. In 2014, 40.1% of corporate counsel recommend their primary law firm to a peer, up from 31.4% in 2013. The BTI Consulting Group's new research finds corporate counsel are taking the time to better articulate their expectations of law firms and working harder to ensure their law firm understands their needs
High-performing law firms are stepping up to meet the challenging demands laid out by clients. These firms are enjoying quantum leaps in performance—with 6% to 11% higher growth—and earning more business than before.
BTI's research finds the law firms clients are using and recommending to others are focusing on 3 core demands: specificity, investment and engagement.
Specificity: With legal advice widely available, targeted guidance meshing with clients' specific needs is the rare combination clients seek.
Investment: Clients expect law firms to add to the relationship—bring new insights, help avoid costly risks, leverage lessons learned to improve efficiency, and help in ways they haven't helped before.
Engagement: The best law firms use continuous engagement to provide new ideas to help the client's organization move forward on multiple fronts.
"The challenge for any firm is to stay one step ahead of clients' goals and outpace competitors looking to unseat you as a client's primary provider," comments Michael B. Rynowecer, President of BTI.
"The key is to keep talking to and interacting with your client," Rynowecer continues, "and change before your client does."
BTI conducted more than 13,000 independent, individual interviews with C-level executives at Fortune 1000 companies and large organizations. Now in its 25th year, BTI conducts the only continuous benchmarking market study of C-suite expectations of professional services firms.
Find more information about this and other compelling research at http://www.bticonsulting.com or contact BTI at 617.439.0333. BTI is the undisputed leader in providing high-impact strategic client research to professional services firms and their clients.