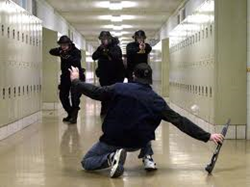 Las Vegas, Nevada (PRWEB) September 13, 2014
Las Vegas based GigaCrete Inc, a leader in green building material technologies, have developed a unique plaster-type finish to go over walls to bulletproof our homes, schools or offices; create safe rooms and bullet resistant walls for schools, banks, court houses or any other building where ballistic protection may be needed. The product gives a ceramic hard finish that is truly bulletproof; it is called BallistiCrete and has been featured on NBC news with very dramatic live fire. BallistiCrete is the world's first plaster that offers bullet resistance even beyond the AK47, 7.62 rounds. In fact, it has stopped military grade armor piercing .308 and even Desert Eagle .50 caliber without even a crack on the inside of the house wall. The walls shown on NBC News were made from 2x4 wood studs with OSB and stucco on the exterior walls and gypsum-board on the interiors that were coated with BallistiCrete. Uncoated, the wall let even small arms fire straight through with lethal force but coated with BallistiCrete the walls stopped everything shot at it, more than 60 bullets total, shot from an Uzi machine gun, AK47, 357 magnum and 50 caliber Desert Eagle.
The Company has just passed official ballistic tests proving it can stop 5 rounds of AK47 bullets in an 8 inch circle when applied over fragile gypsum board or hollow block construction. Tests were performed by H.P. White Labs in Maryland, an accredited Government approved testing agency to NIJ Level III AK47 and NIJ Level IV .308 Armor Piercing. The AK47 has been the most popular terrorist weapon of choice for decades and is used globally by military and civilians and of course al-Qaeda and now ISIS.
"After getting certified we have been inundated with calls from Government Agencies" states Michael Johnson CEO of GigaCrete, "currently we are working with Washington DC, the Military, Law Enforcement and even Army Special Ops and we have initiated dialog with certain government agencies to offer specialized bulletproof protection products. We recently provided BallistiCrete for specific areas in the new Jet Blue terminal at JFK Airport and have been contacted by multiple private sector companies looking for bulletproof coatings." The company gets regular enquiries from Preppers' wanting to create safe rooms and has installed bulletproof coatings in bedrooms and offices and the street sides of homes in areas where drive-by shootings have occurred.
GigaCrete's inventor-founder Andrew Dennis heads up R&D. Dennis is also developing vehicle protection panels for local Las Vegas police cars.
"What started out as hurricane resistant finishes has created quite a stir now around the world as a bullet-resistant coating. Either way we are saving lives," says Dennis.