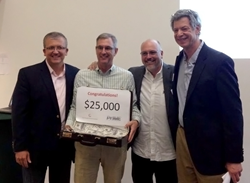 "MyRounding's victory is representative of the company's role in shaping the future of health care and a great example of why Colorado is quickly becoming recognized as a hot bed of emerging digital health innovation," Jake Rishavy
DENVER, COLORADO (PRWEB) September 12, 2014
Selected by a panel of judges comprised of institutional investors and healthcare professionals, MyRounding was selected to compete from a group of over 100 applicants to pitch in the final showcase, the culmination of the finance track of the 2014 PrIME Digital Health Challenge. The final competition and presentations took place on Tuesday, Sept. 9th at the CSU Denver Atrium. Following 10-minute presentations by 12 companies, MyRounding was awarded the top prize.
MyRounding is a Colorado-based digital health company founded in 2012. The MyRounding application, released in August 2013, is a cloud-based, HIPAA-compliant platform and mobile application that is used by hospitals to collect quality, safety and patient data for analysis and reporting – as well as help them capture larger federal reimbursement revenues. The mobile application is currently used by more than three dozen hospitals across the U.S. to help nurses and administrators round on patients and identify issues to increase response time and better handle service recovery issues – leading to increased reimbursements from governmental agencies for improved HCAHPS scores.
"All of us on the MyRounding team are extremely pleased to have been selected as the premier digital health company in Colorado," said David Marshall, Founder and COO. "With over 40 hospitals and healthcare systems across the country now using our platform, we are helping to shine the spotlight on the great work emerging in the Colorado market. We look forward to the opportunity of continuing to release new products that help hospitals increase levels of quality, patient safety and satisfaction."
Each company in the competition was given five minutes to pitch their company to a panel of industry leaders and investors. The top three companies were awarded cash prizes from the Colorado Health Foundation, totaling $50,000 -- the largest prize in PrIME's history. The event was held in conjunction with the BioWest Conference.
"The 2014 Colorado Digital Health Challenge and the Venture Showcase events aim to surface the best and brightest emerging digital health technologies," said Jake Rishavy, Founder of the Prime Health Collaborative. "MyRounding's victory is representative of the company's role in shaping the future of health care and a great example of why Colorado is quickly becoming recognized as a hot bed of emerging digital health innovation."
"We're excited to be a part of the digital health movement in Colorado," Tony Gorski, CEO, MyRounding said. "PrIME Health has become a great catalyst to join us all together in the growing community of digital health companies. We are both humbled and honored to have been selected to win the top prize from among our peers in the digital health community."
About the PrIME Health Collaborative
Founded in July of 2012, the PrIME Health Collaborative is a growing community of more than 500 health care administrators, physicians, technologists, academics, entrepreneurs and investors improving health care outcomes and reducing cost through the commercialization of emerging technologies. For more information, contact PrIME Health Collaborative by phone: 720.231.6542 or e-mail: jake(at)primehealthco(dot)com. Visit the website: http://www.primehealthco.com/Challenge.
About MyRounding
My Rounding Solutions is a digital health company that specializes in creating software tools for healthcare professionals focused on quality, safety, engagement and patient experience. Based in Denver, Colorado, MyRounding supports clients worldwide with award-winning products and services. From implementation, to training, to support and customization, MyRounding provides a suite of full-service solutions that help healthcare organizations increase levels of quality, patient safety and experience throughout the continuum of care. For more information, contact MyRounding by phone at 303-298-8083 or e-mail at info(at)myrounding(dot)com. Visit the website: http://www.myrounding.com. Download a demo of the application here.