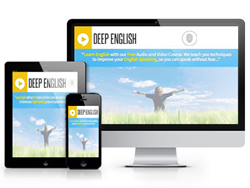 DeepEnglish.com is one of the leading English tutors in the market that offers quality and reliable English courses for foreigners
London, UK (PRWEB) September 19, 2014
One of the leading online based English tutors in the market DeepEnglish.com has confirmed that it has unveiled a brand new and comprehensive seven day English training course that the provider says will help foreigners speak english fluently and with more confidence than before.
According to a statement released by the company the main reason why it has seen it fit to offer the seven day course online is to ensure that each and every person in need of quality English training is able to access it any time and any day. DeepEnglish.com has welcomed anyone keen on learning the English language to take advantage of this seven day course saying that it offers a great opportunity to understand English as a language of communication without having to spend a lot of money in the process.
The company becomes one of the very few online based language tutors to launch a comprehensive one week training course in English and the move is expected to underscore its current position as one of the biggest players in the market. Although Deep English agrees that the seven day training course will have a significant positive effect on its current market share, the provider maintains that the main aim of this service is to promote wide access to quality training for all those who are looking to speak English more fluently and confidently.
DeepEnglish.com has assured its current and future customers that it will continue to offer this seven day course for as long as possible so that many foreigners can be able to use it to the best of their advantage. In addition to this, the provider has acknowledged that it is currently looking forward to a rapid rise in clients over the next few months. However, DeepEnglish.com notes that it has all the capacity needed to meet all the needs of all its clients.
Learning languages and becoming fluent in them is not as hard as many people make it look. DeepEnglish.com notes that with the right training courses anyone regardless of their first language can be able to speak English fluently and confidently and in fact, the company notes that its seven day course is simply designed to help people achieve that goal. Please get more information at Deep English.
About DeepEnglish.com
DeepEnglish.com is one of the leading English tutors in the market that offers quality and reliable English courses for foreigners. The firm has been in business for years now and is rated among some of the best and most sought after English language tutors in the market.
Company details
Deep English
132 W 36th St
New York, NY 10018
Phone No: (877) 899-1001