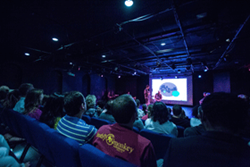 The world doesn't come to you. You have to go out and discover it.
Shreveport, LA (PRWEB) September 13, 2014
Centenary alumni Sara Herbert '06 and Chris Jay '02 will host the third installment of their live storytelling event, All Ya'll Live, this Saturday, September 13, at 7:30 p.m. in Centenary's Marjorie Lyons Playhouse. Saturday's event "Under the Influence" will feature seven true stories about control lost and regained, powerful medicine, journeys into and out of desperate places, and the might of love. The evening will also include a surprise musical guest and musical interludes by Shreveport-based hip-hop producer Nate Treme.
What: All Ya'll Live "Under the Influence" storytelling event
Where: Centenary's Marjorie Lyons Playhouse
When: Saturday, September 13, at 7:30 p.m.
Admission: Tickets may be purchased in advance at allyallblog.com or at the door for $10
"[My wife] Sara and I both love living in Louisiana," said Jay, the Public Relations and Social Media Manger at the Shreveport-Bossier Convention and Tourist Bureau. "And there's the postcard version of Louisiana – the food, the swamps, Mardi Gras – but I think the real reason we love Louisiana is because of the characters you meet down here. Sara and I were inspired by public radio programs like This American Life, Snap Judgment and The Moth Radio Hour, which are all storytelling programs, but they're all based in places like Chicago and New York City. All Y'all is an attempt to give Shreveport, Louisiana, the chance to tell its story in its own words."
The quarterly event launched last March. Hebert initially conceived All Y'all as a blog that profiled local people with interesting stories.
"After we conducted a few audio interviews, it just naturally became a podcast," said Jay. "A few months later, we booked a space for 'New 'Round Here,' our first live event. We had no idea what to expect."
What they found was overwhelming support from the community. Even without selling tickets in advance, their first show sold out ten minutes before the start time from walk-ups. The instant popularity of the event now requires Jay and Hebert to sell tickets online weeks before the event. The couple sees their 2-hour storytelling shows as not just a fun evening, but rather a catalyst for bringing people together.
"I am most proud to walk around at intermission and see people from various connections in our lives, mingling together alongside complete strangers," said Hebert, who is the Marketing Director at Moonbot Studios. "Chris and I have been lucky to become friends with people from all sorts of circles in Shreveport-Bossier. To see a slice of each of them in the same room is truly heartwarming."
Neither Herbert or Jay grew up in Shreveport, but they eventually moved to the area as Centenary students. Jay studied professional writing for film and television under the supervision of Dr. Jeff Hendricks. He graduated the year that Hebert entered Centenary as a first year student to study visual art and new media. The two eventually met through the campus radio station, KSCL 91.3 FM, where they were both disc jockeys.
"As you can tell, radio has played a pretty important role in our relationship," said Hebert.
Years later, both have fullly embraced the Shreveport-Bossier area as their home; Hebert even calls it "one of the most magical places on earth." As passionate community participants, Jay and Hebert advocate for others to get involved and find their niche.
"Moving to a place that has a 'cool culture' already is only self-fulfilling," said Hebert. "What's even more rewarding and fulfilling is creating a culture in a place that truly needs you. Shreveport needs motivated, creative, and progressive people in our community to create the kind of city within which people can find their bliss."
"Go to art openings, film festivals, live music shows, estate sales – get out there and meet folks," added Jay. "The world doesn't come to you. You have to go out and discover it."
All stories told during live All Y'all Live events are recorded, and the evening's most powerful stories are later shared as episodes of the All Y'all podcast. The free podcast is available via the iTunes Store, the "Podcasts" app on iPhone, and it may be streamed online at http://www.allyallblog.com. Some episodes include adult language or references, and listener discretion is advised.
All proceeds from Saturday's "Under the Influence" event will be donated to the Council on Alcoholism & Drug Abuse of Northwest Louisiana. The program is expected to run two hours and will include an intermission with snacks provided by Andrew Parsons and Lagniappe Foods of Shreveport. For more information about the All Y'all event, tickets, and podcasts visit http://www.allyallblog.com.
###
About Centenary College of Louisiana
Centenary College of Louisiana is a selective, residential, national liberal arts college affiliated with the United Methodist Church. Founded in 1825, it is the oldest chartered liberal arts college west of the Mississippi River and is a member of the Associated Colleges of the South.