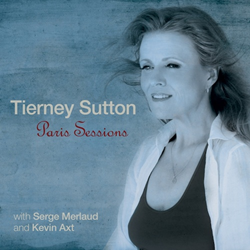 Los Angeles, CA (PRWEB) September 16, 2014
Following widespread acclaim for her heartfelt homage to Joni Mitchell on 2013's Grammy-nominated After Blue, singer Tierney Sutton returns in the revealing setting of duos and trios on Paris Sessions, to be released September 16th, 2014. Called "devastatingly intimate" by her colleague Mark Summer, cellist and founder of the Turtle Island Quartet, this collection of romantic standards and three originals by French guitarist Serge Merlaud casts a spell from the dreamy opening track, "You Must Believe in Spring," to the delicate closer, "Answer Me, My Love."
Recorded in one creative burst on December 10, & 11 2012 at Val d'Orge Studio, Paris Sessions features Sutton's soaring wordless vocals on three Merlaud compositions ("Ilm," "Asma" and "Izzat"). Elsewhere, she brings her impeccable articulation and natural phrasing to the lyrics of Alan and Marilyn Bergman (Michel Legrand's "You Must Believe in Spring"), Lorenz Hart (Richard Rodgers' "You're Nearer"), Carl Sigman (Duke Ellington's "All Too Soon"), Redd Evans and Arthur Kent ("Don't Go To Strangers") and Edward Heyman (Johnny Green's "Body and Soul") The intimate chemistry between singer, guitarist Merlaud and Tierney Sutton Band bassist Kevin Axt is maintained throughout. In the tradition of quiet classics like Frank Sinatra's In the Wee Small Hours, John Coltrane's Ballads and John Coltrane and Johnny Hartman, Sutton's 11th recording as a leader sets an alluring mood that carries through from beginning to end. "I wanted to just sing the song and do sweet, straightforward treatments," says Sutton. "No bells and whistles, no crazy arrangements…just the essence and the mood of the songs. And I think something succeeded because if I'm in an agitated mood and I put this record on, it just centers me."
Sutton first met Merlaud 20 years before the Paris Sessions took place (in 1992) on a visit to the City of Lights. "Serge actually introduced me to Bill Evans' record You Must Believe in Spring. And the reason that he played it for me was that I was telling him how profound I thought the Bergmans' lyrics were. I later ended up meeting Alan and Marilyn Bergman through Jack Sheldon, who used to let me sit in with his band when I first came to Los Angeles. Over these years Alan and Marilyn have become almost like second parents to me, just very dear, very close. And I've always regarded their lyric for 'You Must Believe in Spring' as a personal anthem of hope. It became a theme for me during a dark period in my life, helping me to know that things were going to get better."
For their reunion in the studio in 2012, the chemistry between Sutton and Merlaud, alternating between nylon string acoustic and electric guitars, was immediate and magical on the duet numbers -- "You Must Believe in Spring," "Ilm," "You're Nearer," "Body and Soul" and "Answer Me, My Love." Axt added his resounding tones on acoustic bass guitar for the seven trio numbers, including bossa nova renditions of "Beija Flor" and Bruno Martino's "Estate," Merlaud's "Izzat" and "Asma." Axt also contributes some deft chordal comping behind Sutton and Merlaud on "Don't Go to Strangers," Ellington's "All Too Soon" and the melancholy "Don't Worry 'Bout Me." Says Tierney, "We just decided to do a basically spontaneous record. It was just, 'Here's a song we're going to play. Let's see what happens.'" She adds that there was very little preparation for this session. "Kevin was delayed and only arrived in Paris the day before we were supposed to go in the studio. He had never played a note with Serge but heard him on recordings. So we did about two hours of rehearsals that evening at 5 o'clock, went to sleep and got up at 8 o'clock the next morning and went to the studio."
After attending the Berklee College of Music in the early '90s, Sutton relocated to Los Angeles and debuted in 1998 with Introducing Tierney Sutton, which included renditions of Duke Ellington's "Caravan," the Oscar Hammerstein-Jerome Kern standard "The Song Is You" and an early version of the Rodger & Hart tune "You're Nearer." On 2000's Unsung Heroes she sang interpretations of Clifford Brown's "Joy Spring," Dizzy Gillespie's "Con Alma" and Charlie Parker's "Donna Lee" and she paid tribute to Bill Evans on 2001's Blue in Green. Around that time she became inspired by Joni Mitchell's 2000 recording Both Sides Now. "That album was my doorway into 'Joni-land,' she wrote in the liner notes to her 2013 Mitchell tribute, After Blue. "It is the vocal album that I have listened to more than any other in the years since its release." Two of the tracks on Paris Sessions, "Don't Go To Strangers" and "Answer Me My Love" were inspired by Mitchell's recording and were first included as part of Sutton's After Blue.
Coming on the heels of her rewarding tribute to Joni Mitchell, Sutton reveals yet another layer of her artistry on the intimate Paris Sessions.
For More Information go to: http://www.bfmjazz.com or http://www.tierneysutton.com
About BFM JAZZ
BFM JAZZ was formed in 2010 by leading independent digital distribution company, BFM Digital, as a place where jazz artists can freely explore their creativity and share their vision with existing fans as well as those to come. BFM JAZZ is dedicated to artists who express their distinct, authentic voices and the fans who not only care about the music, but also appreciate the musicians who create it. The artists of BFM JAZZ are well-established, masters of their craft who have toured and recorded with their own bands in addition to lending their prominent voices to hundreds of pop, rock, jazz and soundtrack recordings in the course of several decades.