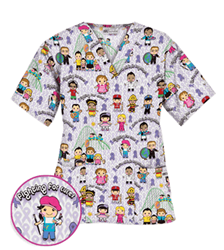 (PRWEB) September 16, 2014
There are over 200 different types of cancer that exists today of which childhood cancer is one of the least funded cancers and makes up less than 1% of all cancers diagnosed yearly.
According to I Care I Cure's site, cancer is the leading cause of death in children under the age of 15 in the US. Every year, approximately 13,500 children and adolescents under the age of 19 are diagnosed (36 a day) and about 4,000 die from it yearly. That means 11 children die from cancer related complications on a daily basis. There have been major treatment advances in the last few decades for some types of cancer, at least 80% of children has a greater survival rate of 5 years or more, 20% more than reported in the 1970s. Some types of childhood cancer, such as some pediatric brain tumors, are terminal upon diagnosis and no new protocols have been developed in 30 years. There's still a lot to be done and UA wants to play their part in helping increase awareness as much as possible so that funding and resources can be increased substantially. For more childhood cancer facts, please click here.
The type of cancers that develop in children are different than that of adults and once diagnosed, needs caring for the rest of their lives. Childhood cancer involves a complex system of comprehensive care and support that not only caters to the child patients but the entire family as well. Despite these facts, childhood cancer research is vastly underfunded. In the past 20 years, only two drugs have been developed to treat childhood cancer. Only 4% of Federal funding goes toward all childhood cancer research, while 96% is designated for the variations of adult cancers. Therefore, at the current time, private funding is critical for research and development of treatments and cures for childhood cancer.
Uniform Advantage's Reason for Giving
Being a provider of medical scrubs and nursing uniforms, what affects their clients, medical professionals, also affects them. Their customers big-heartedly support their charitable causes with South Florida and national charitable organizations. This Fall 2014, they joined forces with I Care I Cure and is donating $1 from the sale of each Purple Ribbon White scrub prints to help join the war against childhood cancer and contributed over $2,500.00.
About I Care I Cure
The I Care I Cure Childhood Cancer Foundation is a 501(c) 3 dedicated to raising awareness and funds for cutting edge research for gentler and targeted cures for childhood cancer. Founded in 2007 by the Besner Family in memory of their son Ian, who passed away from complications stemming from his treatment for Leukemia, I Care I Cure raises funds for research through fundraising events, such as their Celebrity Chef Culinary & Wine Experience on Oct. 26, 2014, at Miami Marlins Park and the I Care I Cure I Run 5K, 1 Mile Run of Color Fun and Family Fun Day on March 8, 2015. Funds are also raised by general donations or gifts in honor or in memory of loved ones, as well as third party fundraising efforts and service projects. I Care I Cure has funded over $1Million to research grants. For information on I Care I Cure, events, volunteering or becoming involved, please visit our website at http://www.icareicure.org.
About Uniform Advantage
Uniform Advantage is a leading retailer of scrubs and medical uniforms. Founded in 1985, the company operates out of Plantation, Florida and ships from their distribution center near Atlanta, Georgia. It has grown to include 29 retail stores located in key cities across the U.S., a catalog division and an entity dedicated to the online market.
For more information and to view their garments, visit the Uniform Advantage web site at http://www.UniformAdvantage.com or call 800-283-8708.