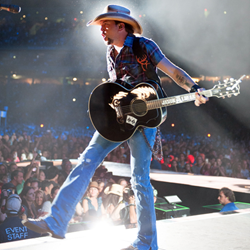 Las Vegas, NV (PRWEB) September 15, 2014
The popularity of music festivals has been on the rise for the past few years, and now, the festival phenomenon takes Las Vegas. This fall, Las Vegas plays host to a plethora of the country's leading music festivals featuring some of the world's most popular musicians!
1. The iHeartRadio Music Festival and Village @ The MGM Grand
Music's most current, chart-topping celebrities perform live under one roof for the iHeartRadio Music Festival, and the iHeartRadio Village at the MGM Grand on September 19th and 20th. The festival jam packs the world's most famous musicians into two unforgettable days of performances, starting with Stevie Aoki, Bastille, Usher, the Zac Brown Band, Ariana Grande, Nicki Minaj, Coldplay, Taylor Swift, and Motely Crue on Friday. On Saturday, the festival hosts two main events, featuring Fences, Lil' Jon, Nico and Vinz, Jake Miller, The Pretty Reckless, Magic!, Childish Gambino, Kacey Musgraves, 5 Seconds of Summer, Neon Trees, and Iggy Azalea at the iHeartRadio Village, then Ed Sheeran, Lorde, Eric Church, Calvin Harris, 50 Cent, Weezer, Train, One Direction, Paramore, and a second set from Iggy Azalea in the MGM Grand Garden Arena. The iHeartRadio Festival is set to be one of the most talked about events this year.
2. The Boulevard Brew Fest @ The MGM Grand
The first ever Boulevard Brew Fest invites guests to tap in to an evening of the finest beer and finest music in the country. The MGM Resorts Village hosts Grammy-winning headliner, Kings of Leon, along with Young the Giant, and Kongos. The debut festival teams up with the Oregon Brewers Festival to bring Las Vegas attendees a selection of over 50 unrivaled beer choices from more than 35 first-rate breweries, along with hand-picked craft beer selections from multiple, local Las Vegas breweries. The Boulevard Brew Fest brings Las Vegas 7 hours of beer and music on September 27th, and is bound to set a high standard for future festivals like it.
3. Wine Amplified Festival @ The MGM Grand
This intoxicating two day long festival combines rocking, rolling, and wining for a wine tasting event that exceeds all years prior. The ninth annual Wine Amplified Festival kicks off on October 10th with headlining band Train, along with Better Than Ezra, Mystic Roots and more. October 11th features the pop punk trio, Blink 182, including additional performances by The Violent Femmes, and The Mowglis, to name a few. The Wine Amplified Festival embraces the authentic vineyard experience with activities such as barrel tastings, and grape stomping, along with unique features such as a hidden speak-easy, and a libation lounge. Rock 'n Roll Wine and the MGM have teamed up to make this Wine Amplified Festival the best one yet!
4. Life is Beautiful Festival @ Downtown Las Vegas
Las Vegas' second annual Life is Beautiful Festival rivals every popular music festival in the country with their unbelievable line-up. The best musical artists of nearly every imaginable genre will join together in Downtown Las Vegas, making tickets to this three day long festival one of the most sought after acquisitions in the music scene. Life is Beautiful highlights performances from the wildly talented Kanye West, the famous R&B duo, OutKast, and the legendary rock band, Foo Fighters. The festival also features an incredible array of headliners including Jenny Lewis, Phantogram, Panic! At the Disco, Ok Go, Artic Monkeys, The Flaming Lips, Skrillex, along with countless other acts spanning over the three days. Life is Beautiful sets the bar for current music festivals, and will blow the minds all its attendees this year.
5. Rise Lantern Festival @ Jean Dry Lake Bed
On October 18th, the Rise Lantern Festival will take place just outside of the Las Vegas city limits at the Jean Dry Lake Bed. Each guest will be provided with two, 100% bio-degradable lanterns that they are invited to wish on, pray on, or even write a personal message on before releasing them into the air simultaneously with the entire crowd. A bamboo matt is gifted to each guest for use during and after the festival. Attendants are invited to relax, eat, and enjoy live music while reflecting on their lanterns, enjoying each other's company, and appreciating the positive environment around them. This inspiring event embraces and celebrates both the physical and emotional aspects of the earth in a beautiful, and environmentally beneficial way.
6. Route 91 Harvest @ The MGM Grand
Country music takes Las Vegas for a spin on October 3rd, 4th, and 5th for the inaugural Route 91 Harvest Festival. Country music royals Blake Shelton, Miranda Lambert, and Jason Aldean each headline a different day of the festival, along with other top names in country music including, Brantley Gilbert, Randy Houser, Dierks Bentley, Dwight Yoakam, Tyler Farr, Clare Bowen, Dee Jay Silver, Ashley Monroe and many more. This three day country extravaganza will turn The MGM Village Resorts into a rustic powerhouse of talent, fun, and excitement. The first ever Route 91 Harvest will have country lovers talking for years to come.
About BestofVegas.com
BestofVegas.com is an Entertainment Benefits Group Company (EBG) and has been delivering Las Vegas travel fun since 2001. Negotiating the best rates on hotels, tours, and shows, we work directly with partners to help visitors save money and really explore Vegas. EBG operates more than 35 locations in Las Vegas with a customer service call center available seven days a week. BestofVegas.com delivers special offers, exclusive Cirque du Soleil backstage tours, and great deals on what makes Vegas so fun.