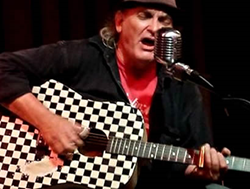 A dazzling array of guitars and a pocketful of songs in the hands of a truly remarkable player... it was outstanding!Stevie Ross, San Diego
Nashville, Tennessee (PRWEB) September 16, 2014
Tour season may be over for the moment, but don't tell that to Eric Sommer, a Pop Americana artist whose dance card is pretty full these days. And whose star on the Americana scene has been steadily rising.
No, more like shooting up in some odd horizontal trajectory that has kept Mr. Sommer under the radar - but on everyone's lips - and in the musical backwash for years.
And that, finally, is starting to change.
Mr. Sommer is, without question, one of the finest players around, covering a variety of styles but always coming back to his unique approach to improv and songwriting. His tour schedule is always packed and Eric Sommer has been touring relentlessly to support his new record "Rainy Day Karma." The record was recorded in Pittsburgh, mastered in Nashville and distributed by Clyde is Thinking.
These Virginia shows are perfect showcases for this remarkable player. The Blue Moon Diner in Charlottesville, VA is a favorite small cap room frequented by the University of Virgina community.
It is located right in the heart of Charlottesville.
Staunton, Virginia is home to The Pompei Lounge which is a perfect showcase to see this exciting guitar player. Do it now, before his ticket price goes stratospheric.
Eric Sommer has more history and mojo than most players on the scene today - schooled by Steve Howe (YES), guided by David Bromberg, Joe Pass, Pat Martino and Stevie Ray Eric is darn comfortable in all acoustic/electric formats. At the same time, his desire to be a master of his tools has made him a strong player of the Fender Telecaster, various harmonicas and the amazing lap-slap style he created.
Make every effort to see Eric Sommer in Charlottesville at the Blue Moon Diner on September 16th and 30th and in Staunton, Virginia at The Pompei Lounge on September 19th.
You will not be disappointed.
_________________________________________________________________
For music samples, please visit Eric Sommer online for additional schedules or contact him at eric(at)ericsommer(dot)com or call 202-255-1995. Additionally, you can find Eric Sommer on Facebook, too, at Eric Sommer Music. RAINY DAY KARMA is also available on CDBaby
Eric Sommer is represented by Clyde is Thinking, and PR programs are managed thru MTG/NY. For more information, promo/appearance requests or to set up an interview, please contact Tom Monihan 202-255-1995.