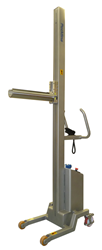 The roll handling solution with bespoke lifting attachment is a great option for any business wishing to improve or eliminate any lifting and handling issues they are experiencing
(PRWEB) September 15, 2014
The new roll lifting attachment with a 'cut-out' section, from Packline Materials Handling and Ultrasource LLC, incorporates the standard single spindle design but with a cut-out section through the horizontal to allow for any fixtures or fittings on the roll itself or the processing machinery to be unaffected.
This lifting solution enables the operator to lift the roll via its core without causing damage to the roll or machinery. Constructed mainly from stainless steel, this roll handling solution is ideal for clean room environments, such as those found in food and drinks processing industries, and pharmaceutical industries.
This bespoke roll handling attachment is designed to transport rolls of film or foil to a racking system where the rolls are supported to small booms. The cut-out section on the spindle attachment allows the lifting attachment to support the central core of the roll, but clears the support boom.
The central carriage of the lifting equipment is fitted with a 'proximity switch' to precisely lift the roll to the exact height specified by the operator. Full movement of the attachment can still be achieved by pressing the override button when the pre-specified height is not required.
The top of the 'cut-out' sections on the roll handling attachment are fitted with 'Delrin' strips which protect the core of the roll from slicing or cutting.
Specifications:
Safe Working Load: 187.4lbs (85kg)
Attachment Mass: 20.3lbs (9.2kg)
Maximum Reel Length: 29.5" (750mm)
Packline Materials Handling has been designing and manufacturing materials handling equipment since 1993. The range of stainless steel materials handling equipment has established Packline as a leading supplier of quality roll and drum handling equipment for the food, drinks, dairy, pharmaceutical and medical processing industries worldwide.
Packline Materials Handling are able to provide bespoke lifting and handling solutions for materials handling issues involving rolls, reels and drums; by creating new concepts or tailoring existing lifting and handling equipment to meet specific requirements.
Ideally suited for clean room environments, the stainless steel 'Compac' range of roll, reel and drum handling equipment from Packline materials Handling, is suitable for use in the following industries:-

Food processing
Drinks and Beverages Processing
Dairy
Pharmaceutical
Packaging and Labelling Industries
FMCG; Fast Moving Consumer Goods
Medical Processing
Chemical
The purpose-designed compact framework, positioning of handlebars and addition of an optional remote control device provide improved manoeuvrability and ease of use for the operator.
The incredibly small footprint makes the 'Compac' roll and drum handling equipment highly manoeuvrable and a natural choice for today's narrow production lines and demanding lifting requirements.
For further information on the roll handling solution with bespoke lifting attachment, or the full range of materials handling equipment, please contact Packline Ltd on +44 (0)1202 307700 (http://www.packline.co.uk); or in the USA contact Ultrasource LLC, http://www.ultrasourceusa.com.
Packline Ltd
Unit 28
Newtown Business Park
Ringwood Road
Poole, Dorset
BH12 3LL, UK
USA Distributor:
Ultrasource USA LLC
1414 West 29th Street
Kansas City, MO 64108-3604
(O): 816.360.2034 | Ext 2034
http://www.ultrasourceusa.com/
For a full list of worldwide distributors please visit Packline's website.