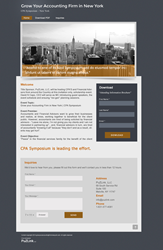 If the client public is to be served appropriately by their trusted advisors, it's imperative that a spirit of collaboration be established within the financial services professions.
(PRWEB) September 15, 2014
Certified public accountants know that to grow your accounting firm in New York requires developing alternative sources of revenue that will build your business and better serve your clients.
Conventional sources of revenue for the accounting industry, generally resulting from tax and accounting practices, have been gradually eroding, largely due to the availability of new technology and software. Coupled with the effects of the economic downturn in recent years and, at best, a stuttering recovery, revenue growth for accounting firms is not projected to rebound significantly for the remainder of this decade. Faced with that reality, accounting professionals have no choice but to develop new sources of income that will provide growth and strengthen their businesses for the future.
PuZLink, LLC, a New York-based business development firm, has introduced an annual CPA Symposium that is designed to provide sponsored accountants with business referrals within the New York metropolitan area. The goal of the conference is to provide accountants with the resources needed to generate growth, differentiate themselves from their competitors, and develop strategic partnerships with financial services firms. While accountants and financial advisors realize that working together is beneficial for their clients, establishing relationships between the two industries has been a challenge.
"If you're a CPA trying to grow your accounting firm in New York, you already understand the potential benefit of the comprehensive financial services available through an advisor," said David Capo, CEO of PuZLink, LLC. "At the same time, trying to sort through the numerous solicitations from financial firms can be overwhelming and counter-productive.
"Our approach with the symposium is to bring the two industries together to develop strategic partnerships that provide even greater benefits for their clients," he said. "If the client public is to be served appropriately by their trusted advisors, it's imperative that a spirit of collaboration be established within the financial services professions."
The CPA Symposium is a selective, invitation-only conference, and is scholarship-based. Accountant attendees must qualify and be nominated by a financial advisor or financial advisory firm. Participants will be provided with resources designed to help grow their practices while learning how to strengthen their services by partnering with a qualified financial advisor. Planning details for dates, times and the location of the annual conference will be shared on the CPA Symposium website, http://www.cpasymposium.com
The primary sponsor for the Symposium, PuZLink, LLC, has worked with and built a variety of forward-thinking companies, including financial services entities, and has extensive experience with accountants and financial advisors. This background gives PuZLink an intimate knowledge of the financial professions. It is based on that experience that the firm decided to offer an annual conference to help strengthen the industry, by encouraging accountants and financial advisors to work more closely together, and doing so from a unique perspective.
According to Capo, a true partnership between the two industries has often been difficult to accomplish. PuZLink recognized an opportunity to help create common ground by establishing a forum through which financial advisors and accountants could meet and establish productive working relationships.
The goal of the CPA Symposium is to introduce both groups to resources that can be mutually beneficial, without infringing on the services that they each typically perform for their clients or the reputation that is at stake for each. The result is that client interests are better served, while accountants and financial advisors work together to strengthen their respective firms.
Both the accounting and financial services professions have been affected by the technological advancements of the past decade. The client public has more options available to them than ever before, particularly with the abundance of websites designed to cater to the modern demand for speed and convenience. However, there is no substitute for the personal, professional counsel that CPAs and qualified financial advisors offer. The CPA Symposium is designed to bring both industries together to consolidate the services they offer and provide an unsurpassed level of benefits to their clients.
About PuZLink
PuZLink, LLC is a business development firm that builds companies and serves as a referral resource for growth-oriented businesses. More information is available online at http://www.PuZLink.com.
Media Relations:
Tom Delamater
PuZLink, LLC
(330) 437-5975