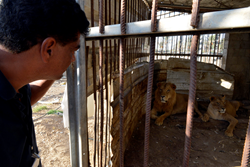 The few surviving animals, among them three lions, are traumatized, ill and very weak.
Gaza / Vienna (PRWEB) September 14, 2014
The conflict in the Gaza strip that went on for weeks caused not only human casualties but affected animals as well. The zoo in North Gaza was heavily damaged during the conflict. More than eighty animals in the zoo perished. The twenty surviving animals are now finally receiving medical assistance. The animal rescue organization FOUR PAWS was able to get access to the heavily damaged zoo and provide lifesaving medicine and food for the animals, as well as to restore the water supply.
The head of the Gaza Zoo, Mr. Shady Hamad, made an official request to FOUR PAWS as the surviving animals had been left without food or water. The team leader of the FOUR PAWS rescue team, Dr. Amir Khalil, is shocked by the conditions in the zoo: "Most of the enclosures have been severely damaged. There are several dead animals lying around. The few surviving animals, among them three lions, are traumatized, ill and very weak."
The emergency team, equipped with disinfectants, antibiotics, and other medication, is now treating the animals on-site. Food deliveries from Gaza have been organized and cold storage facilities arrived over the weekend to keep medicines and food in good condition. As a next step, FOUR PAWS will attempt to find a solution for the remaining surviving animals. Khalil: "As the lion enclosure was also damaged, we will take security measures first."
Khalil: "We planned the operation from Cairo, working with the Egyptian authorities and local NGOs. The team's safety was our top priority. We were finally able to reach the Gaza strip accompanied by a military convoy."
It is still unclear if the zoo will be able to carry on. "We will now assess whether the lions can be transferred to a safe place outside Gaza", said Khalil. This is likely to be decided in the next few days.
============
FOUR PAWS International is an animal protection organization that works to protect animals through sustainable campaigns and projects. Its offices are in 11 countries, including its USA office in Boston, MA. FOUR PAWS has been working in disaster relief since 2005. Its missions include the aftermath of the tsunami in Sri Lanka, Tripoli Zoo, the typhoon in the Philippines, and most recently, the floods in the Balkans.