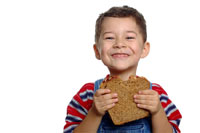 Sheila McCann, President of House of Bread Franchising states that " I know our products will help start kids out right each morning and I'm putting my bread where my mouth is in order to help kids eat better."
San Luis Obispo, Ca (PRWEB) September 17, 2014
House of Bread believes that nutrition leads to better focus in school, which in turn leads to better opportunity in life.
House of Bread wants kids to try our whole grain breads which they will surely love as long as no one tells them it's good for them. Mom & dad buy a whole grain bread and start making the children's lunches on them and House of Bread will throw in a Wheat Cinnamon Roll. Which by the by, our Whole Wheat Cinnamon Rolls are a relatively healthy snack: honey, stone ground whole wheat flour, real butter, cinnamon, brown sugar, yeast, salt.
House of Bread can't leave out the role models who educate, motivate, inspire, and lead our kids to a healthier future. Teachers, as a thank you, House of Bread will give teachers a loaf of bread at no monetary cost. Come in to House of Bread, show that you're a teacher and choose a favorite bread. House of Bread has one request - make a difference! Educate the students on healthier food options or get the cafeteria to make necessary menu changes, etc. Not a teacher, I'm sure you know one. Invite them to come in to the bakery.