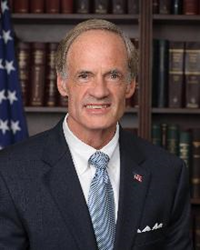 Washington, D.C. (PRWEB) September 15, 2014
U.S. Senator Tom Carper (D-Del.) and transportation leaders from both the public and private sectors have confirmed their participation in the 2014 WTS Policy Symposium on October 1, 2014. The symposium, taking place at the Hyatt Regency Washington on Capitol Hill, will bring together high-profile leadership from across all modes to discuss topics including technology and connected vehicles, the outcomes of the National Freight Advisory Committee, the next generation of aviation, and defining the federal role in transportation in the post-interstate era—a panel discussion featuring five former USDOT Secretaries.
Sen. Carper, chair of the Senate Environment and Public Works Subcommittee on Transportation, will serve as the keynote luncheon speaker at the event, which has been planned by a committee including Mort Downey, former U.S. Deputy Secretary of Transportation and Senior Advisor at Parsons Brinckerhoff, Norma Krayem, Principal at Squire Patton Boggs and former Deputy Chief of Staff at the U.S. Department of Transportation, and Mary Peters, former U.S. Secretary of Transportation and member of the Board of Directors at HDR, Inc.
"Chairman Carper has a long history of support for transportation and infrastructure, from his recent work on a multi-year highway authorization bill, to his work on the Senate Finance Committee focusing on transportation funding, along with his previous efforts with Senate Commerce on multi-modal freight programs. As the Governor of Delaware in the 1990s, he supported innovative transportation policies carried out by his transportation secretary, WTS pioneer Anne Canby, and served for many years as a member of the Amtrak Board of Directors," said Downey.
WTS International holds the policy symposium every few years in an effort to fulfill its mission to build the future of the transportation industry through the global advancement of women. The roster of panelists for the day's event includes:

Scott Belcher, President and CEO, ITS America
Leslie Blakey, Principal, Blakey & Agnew, LLC; Executive Director, The Coalition for America's Gateways and Trade Corridors (CAGTC)
James H. Burnley, IV, Former U.S. Secretary of Transportation, 1987 – 1989; Partner, Venable LLP
Ann Canby, Director, OneRail Coalition
Andrew Card, Former U.S. Secretary of Transportation, 1992-1993
Kristen Decas, Port CEO & Executive Director, Port of Hueneme; 2014-15 AAPA Chairman of the Board
Mort Downey, Senior Advisor, Parsons Brinckerhoff; Former U.S. Deputy Secretary of Transportation
Mark Gale, CEO, Philadelphia Airport
Richard A. "Rick" Inclima, Director, Safety, Brotherhood of Maintenance of Way Employees Division [BMWED], International Brotherhood of Teamsters
Fran Inman, Senior Vice President, Majestic Realty Co.; California Transportation Commission Member
Norma Krayem, former Deputy Chief of Staff, U.S. Department of Transportation, Principal, Squire Patton Boggs
Norman Mineta, Former U.S. Secretary of Transportation, 2001 – 20006; President and CEO, Mineta & Associates, LLC
Mary Peters, Former U.S. Secretary of Transportation, 2006 - 2009; Member of the Board of Directors, HDR
Sharon Pinkerton, Senior Vice President, Legislative and Regulatory Policy, Airlines for America
Dorothy Robyn, Former commissioner, Public Building Service; Author, Braking the Special Interests: Trucking Deregulation and the Politics of Policy Reform
Rodney Slater, Former U.S. Secretary of Transportation, 1997 - 2001
Ann Schneider, Former Secretary, Illinois Department of Transportation
Rich Swayze, Assistant Administrator for Policy, International Affairs, and Environment, FAA
"WTS is honored to be working with Senator Carper and this distinguished list of transportation leaders on what is sure to be an eye-opening event. These thought leaders heading to the WTS Policy Symposium from both the public and private sectors and across all transportation modes truly reflect a commitment to the future of the industry and closing the workforce gap through the advancement of women," said Marcia Ferranto, WTS President and CEO.
WTS is the only multi-modal transportation association dedicated to attracting women to—and advancing them within— the industry. As such, WTS is frequently called upon to attend or participate in presentations, forums, briefing sessions, and symposiums held by various White House agencies.
Details about the WTS 2014 Policy Symposium and registration information can be found at https://www.wtsinternational.org/policy-symposium/ or by calling 202-955-5085. The symposium will be immediately followed by a cocktail reception.
***
WTS International and WTS Foundation, the charitable arm of WTS headquartered in Washington, DC, seek to attract, retain, and advance women in transportation. As the industry's premier multi-modal association, WTS boasts a network of more than 5,000 transportation professionals—women and men from across the United States, Canada, and Great Britain. Every transportation mode is represented, as is every service within the industry. From federal leaders to engineers and planners, the WTS membership base represents nearly 1,500 companies and 400 agencies in more than 90 cities. WTS Foundation has provided more than $1,000,000 in scholarships to deserving women throughout the transportation industry, supporting the next generation of transportation professionals and advancing the principles of WTS. More information can be found at http://www.WTSinternational.org.