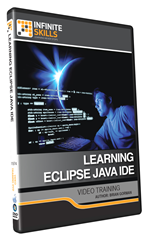 Learn Eclipse Java IDE at your own speed
(PRWEB) September 16, 2014
Software training firm Infinite Skills Inc. last week introduced its "Learning Eclipse Java IDE Tutorial," a course designed for experienced developers interested in learning to write code with this leading integrated development environment (IDE), and make use of its highly extendable architecture.
Written in Java, the Eclipse IDE can be used to write in a variety of languages. The software allows developers to write, test, and debug code, all in an integrated environment, as well as use code assist and a number of other tools available as plug-ins.
Infinite Skills' "Learning Eclipse Java IDE Tutorial" covers all the software's major features, as well as the shortcuts and plug-ins, that facilitate the coding process.
Learning Eclipse Java IDE Tutorial - Streaming
Course author Brian Gorman has been programming professionally for more than 12 years. He has taught at online universities and in classroom environments for the last five years. He is Microsoft certified in C#, and an expert in Java programming, JSP/Servlets, algorithms and design patterns, SQL Server, and the Microsoft Office suite of professional applications.
The course begins by walking students through the installation of Java 8 and Eclipse, as well as plug-ins, on the Mac, Windows, and Linux operating systems.
Gorman then explains how to create a project and set up preferences for a Java coding project.
He explains how to create classes and packages, either manually or with shortcuts and see the code work.
He then moves into advanced features such as editing, working with content assist, importing and exporting, refactoring, and navigating and searching a code project.
Gorman closes with a chapter on cleaning projects, debugging, and more.
"This course will cover the majority of tools and features available in Eclipse in a way that positions developers for ultimate success," Gorman says.
"We will be working in Java, but this is a great course for any developer wanting to learn about Eclipse, and how it is the best environment on the market for you to do your job as a developer."
Free demo videos and a full list of course contents can be found on the "Learning Eclipse Java IDE Tutorial" training page of the Infinite Skills website:
http://www.infiniteskills.com/training/learning-eclipse-java-ide.html
Infinite Skills offers its Learning Eclipse Java IDE Tutorial either as a DVD or a direct download from the company website at a retail price of $49.95, or as part of its subscription streaming service at a rate of $25 per month. All Infinite Skills titles and formats are compatible with both Mac and Windows operating systems, and shipping is available around the globe. Infinite Skills tutorials are supported by project files which correspond to examples in the videos.
About Infinite Skills Inc.
A leader in the field of software training, Infinite Skills strives to offer the highest quality training available at an affordable cost. Infinite Skills tutorials are task-oriented instructional videos, teaching complex skills by providing hands-on examples, guiding users as they carry out critical objectives. Infinite Skills offers a comprehensive range of software titles available as DVDs, digital downloads, and iPad editions, keeping with company aim of delivering professional training to customers anywhere they want to learn.