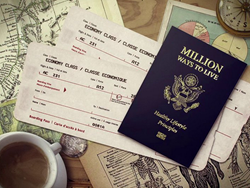 "We live in a world of diversity and I think we should celebrate our differences and learn from one another," says Luke Sniewski. "We want to inspire healthy living by sharing these stories of amazing individuals around the world."
Los Angeles, CA (PRWEB) September 16, 2014
Luke Sniewski, Claire Robbie and their 6-month old son, Jack, are embarking on a 14-month journey around the world to celebrate cultural diversity and healthy living. Their international documentary web series project, titled 'Million Ways to Live', will take them to more than 30 countries in order to highlight the healthy lifestyles of amazing, unique and diverse people.
Inspired by Sniewski's book, 'Million Ways to Live', the documentary series will focus on how individuals apply 6 Healthy Lifestyle Principles: Real Food, Movement, Rest & Relaxation, Lifelong Learning, Community, and Love. Sniewski wants to show that these principles may be applied in a wide variety of ways depending solely on the individual and their personal goals.
Rather than listening to the plethora of fitness and wellness experts that often contradict one another, Sniewski's book proclaims the ultimate guide to health and wellbeing is your own body; 'Listen to yourself and be your own wellness guru.' His book provides a blueprint for those seeking to find both sustainable and long-term healthy habits around a lifestyle that works for them.
"We live in a world of diversity and I think we should celebrate our differences and learn from one another," says Luke Sniewski. "The Million Ways to Live project, both the book and the web series, are our contributions towards those efforts. We want to inspire healthy living by sharing the stories of amazing individuals around the world."
You can follow Sniewski and Robbie's educational adventures on Facebook. You can also see their pilot episodes and contribute to their inspirational message by visiting their Trevolta travel project page.
ABOUT LUKE SNIEWSKI
Luke is a student of the human body. A former professional football player and Certified Public Accountant, this modern Renaissance man found his passion for life diving into the diverse realms of healthy living. With professional credentials in performance training, corrective exercise, soft tissue & facial therapy, nutrition therapy, cooking and environmental sustainability, Luke brings a comprehensive approach to his coaching which integrates physical, mental and emotional aspects of wellbeing. His book and international documentary series, Million Ways to Live, bridges the gap between complex theory and practical application while empowering people to be their own wellness guru.
"The innate wisdom of the human body is greater than anyone has ever allowed you to believe. Trust it. Your body stores a lifetime of information that must be considered when creating a healthy lifestyle that is both realistic and sustainable. What happens in a lab doesn't always translate into real life. When you work with real people you have to treat each person as a unique case; one that will surely teach you as much as you teach them."
ABOUT CLAIRE ROBBIE
Claire's love of yoga is contagious. A former television news reporter back in her native New Zealand, Claire left the fast paced TV world to figure out what she was truly passionate about. She began teaching yoga in Los Angeles after personally experiencing the transformative nature of a consistent practice. A perpetual student, Claire trained with some of LA's top teachers before moving back to New Zealand to run her wellness retreat company Jack & Olive. She now hosts impeccably curated and transformative getaways all over the world that have been described as the 'rock n' roll' of wellness retreats. These combine yoga, fitness, nutrition, a damn good time, and damn fine people.
"For me the most rewarding part of my job is the moment when people realize that health and happiness are a byproduct of accepting yourself for who you are, the good and the bad. As soon as we stop running from ourselves, magic starts to happen".