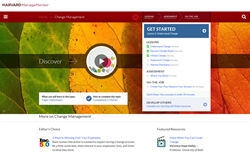 "Our busy managers don't have time to waste. They need to be able to quickly learn new skills and apply them on the job," said John Kolmer, GPHR, Manager of Global Leadership Development at Dow Chemical.
(PRWEB) September 16, 2014
Harvard Business Publishing today announced the new release of Harvard ManageMentor® , the premier on-demand learning resource for leadership and management development. Through an innovative work-based approach, the new Harvard ManageMentor guides learners to apply what they learn directly to their work, to accelerate learning and drive business impact. Designed to equip managers and individuals for the business challenges they face every day, Harvard ManageMentor now integrates an action planning process that prompts learners to work toward specific goals over time. This major new release delivers new and proven content from world-renowned business and leadership experts, hundreds of new media elements, and a highly engaging elearning experience.
The continuous change characteristic of today's business environment demands that employees adapt quickly to market shifts and new requirements. Organizations need ways to continually build skills and enhance performance so that employees at all levels are able to consistently make sound decisions, innovate, and lead their teams toward strong business results.
"Our busy managers don't have time to waste. They need to be able to quickly learn new skills and apply them on the job," said John Kolmer, GPHR, Manager of Global Leadership Development at Dow Chemical, a client participant in the First Look program for the new offering.
This latest release of Harvard ManageMentor is well-positioned with the rapidly evolving learning and leadership development landscape. Key new features include:

Highly relevant multi-media content, including hundreds of new videos in varied formats, and restructured, concise lessons that will be updated regularly to keep learners motivated and engaged. The content elements are designed so that they can be easily threaded into an organization's learning programs.
Greater business impact via more effective learning transfer and behavior change. Learning is applied directly to work, providing a continuous reinforcement of skills. The program architecture includes "learn, practice, reflect, and on-the-job" built into every topic.
A powerful work-based approach extends learning through a focus of applying new skills on the job. This includes a new component which allows the learner to set a personal goal and develop a 90-day action plan to meet that goal. Harvard ManageMentor prompts the learner during the action planning window with tips and reminders.
For group learning, the "Café" resources include sets of materials to help learning organizations and individual team leaders facilitate rich discussions around important topics to prompt action in the specific context of the organization.
Powerful, easy-to-use measurement dashboards and reports that show how effectively managers are applying skills on the job and provide insights for learning professionals to refine their programs and show progress and business impact with stakeholders.
All of this is fueled by the research and frameworks of preeminent Harvard Business School faculty, along with other top faculty, authors, and practitioners from around the world. Developed in collaboration with client organizations and based on the latest research, the new release was driven by a team of Harvard Business Publishing's leadership development and learning design experts.
"Harvard ManageMentor's content incorporates proven practices from world-class experts," said First Look participant Tina Ullmann, SPHR, Global Talent Management and Executive Leadership Development at Staples. "The program's videos, articles, and other tools give learners practical information that they can use right away."
"Leading organizations around the world use Harvard ManageMentor to successfully accelerate development of their workforce so that their teams can perform at a high level in today's rapidly transforming business environment," said Ray Carvey, executive vice president of corporate learning and international, at Harvard Business Publishing. "This new release weaves learning even more into work and focuses learners on specific performance goals. Harvard ManageMentor is designed to help our clients get the most from their learning investment."
Availability and Services
The new release of Harvard ManageMentor is immediately available. Harvard ManageMentor is available on-demand via the web and is mobile- and tablet-compatible. It can also be accessed from an organization's human resources or learning management system. Havard ManageMentor implementation and ongoing services are provided by a dedicated team of leadership development experts focused on our client's success. Harvard Business Publishing offers a variety of learning strategy services: program and curriculum design, implementation advice and tools, moderation, and train the trainer options. Harvard ManageMentor can be customized with an organization's look and feel and brand.
About Harvard ManageMentor
Harvard ManageMentor® is the premier on-demand learning and performance support resource for leadership and management skill development. Harvard ManageMentor's high quality content—regularly updated topics, videos, tools, and on-the-job activities—engage and motivate learners. Harvard ManageMentor is fueled by the latest in thinking and proven practices from Harvard Business Publishing's world-class experts and designed to drive learning transfer and business impact for organizations. http://www.harvardmanagementor.org.
About Harvard Business Publishing Corporate Learning
Harvard Business Publishing Corporate Learning partners with clients to create world-class leadership development solutions for managers at all levels. We leverage the management insight, thought leadership, and expertise of Harvard Business School faculty and authors from Harvard Business Review to create tailored leadership development solutions. With more than 20 years of practical experience, our innovative, technology-enabled solutions drive meaningful and lasting business results. Corporate Learning is a market group within Harvard Business Publishing. For more information, visit http://www.harvardbusiness.org. Follow us on Twitter https://twitter.com/HBPCorpLearning and connect with other talent development leaders on LinkedIn through the Harvard Business Publishing Corporate Learning Group.