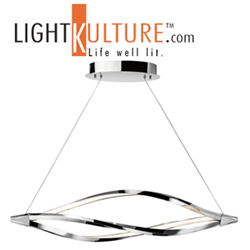 Elan's comprehensive product offering of geometric shapes in modern contemporary designs has expanded considerably since their initial launch last year.
New York, NY (PRWEB) September 17, 2014
Lightkulture.com is thrilled to offer the next generation of Elan, contemporary LED lighting by Kichler. "One year ago I predicted great success with Elan," noted Susan Inderbinen President of LightKulture.com. "What a difference a year makes." Elan's comprehensive product offering of geometric shapes in modern contemporary designs has expanded considerably since their initial launch last year. In addition to the expanded offering, Elan's LED fixtures are now dimmable. This is a game changer in the decorative LED field. The challenge for Kichler has always been creating the right balance between style, technology and value. The Elan lighting collection has proven to possess these attributes. The artistic elements, combined with the energy efficiency and quality of LED light, makes this Kichler collection a one-stop shop for every modern home.
Elan makes a bold, innovative statement with light. As one of the first brands on the market to be 100% LED, Elan has taken the lead in product offering, design philosophy and technical innovation. Elan offers complimentary lighting families, using simples forms, in various configurations in LED chandeliers, LED pendants, LED mini pendants, LED ceiling lights, LED wall sconces and LED bath vanity lights. Elan has designed modern lighting sculptures that make a statement, or a subtle contribution to an atmosphere with light. The right lighting can bring interior elements together. Dimmable fixtures can help define a room, set a mood, and provide proper lighting to a space, Elan offers clean lines with uncommon texture. With the introduction of integrated dimmable LED drivers, the functionality of the line, now matches the design integrity of the product, all at a great value.
For more information go to
Elan http://www.lightkulture.com/brands/Elan-Lighting.html
Elan by Kichler, Next Generation Modern LED Lighting, Now Available at LightKulture.com
"I have been extremely satisfied with Elan. As a light source, the product line performs as it is meant to, energy efficient, color correct and dimmable. The fit and finish, materials and styling are very much on trend. As a brand, Elan has proven themselves to be a reliable partner to work with. As a business owner, I am gratified so many customers have turned to us to make their Elan purchase.This season, Elan introduced a number of exciting new collections. I have 3 personal favorites. The Crushed Ice LED series features a chrome frame with clear glass crystals that capture the light as a striking focal point in pendants, wall sconces and ceiling fixtures. The Meridian LED series has fluid, graceful, sculptural lines. The brushed nickel outer body, and inner clear etched acrylic lense, provide a fascinating illuminated work of art. The Sirkus LED series is reminiscent of an acrobatic performance with concentric rings lit from inside. We are very confident to recommend Elan to our professional clients and homeowners who are looking for exciting decorative LED lighting to add the wow factor to their light plan," noted Susan.
About LightKuture.com
At LightKulture.com, our mission is to offer the finest energy efficient contemporary lighting and light fixtures from around the world. We have assembled an exciting collection of the industries most innovative decorative and architectural lighting.We are proud to offer lighting solutions for both your home and work-life environments. Simplicity is design is complicated, function makes it last. Be inspired by our range of essential designs from well respected American and European manufacturers. In today's world, energy efficient lighting is as important as eco-friendly or green lighting fixtures, such as LED or CFL lighting. We offer the very best energy efficient lighting and light fixtures, both high value LED lighting fixtures and CFL lighting fixtures in modern and contemporary styles that provide quality, innovation and authenticity.
LightKulture
http://www.lightkulture.com/
Email. sales(at)lightkulture(dot)com
Tel. 954-330-0422