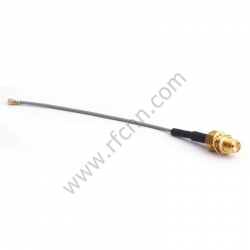 (PRWEB) September 16, 2014
LenoRF, a famous electrical accessory manufacturer, has been serving worldwide distributors for several years; it has various kinds of high quality items for sale. Recently, the company has released its new selection of SMA Female TO U.FL Cable Assemblies. Moreover, all its new cable assemblies are provided at discounted prices, up to 40% off.
"We are very excited to announce our fresh cable assemblies. As is known to most distributors, our RF products are popular in the global market. Thus, I believe our new items can sell well at home and abroad. At the moment, we have plenty of useful electrical accessories for sale. By the way, the current special offer will be valid until September 30, 2014." the CEO of the company said.
Besides SMA Female TO U.FL Cable Assemblies, LenoRF is now offering a huge collection of high end electrical accessories. It hopes that all of its clients can enjoy the shopping experience on its website. All its online workers have a good knowledge of customer needs and product features.
In LenoRF, quality lies at the heart of all business. The company applies a strict quality control system from sourcing to delivery. Before starting to make the products, the company's experienced experts communicated with a lot of industry leaders.
About LenoRF
LenoRF is an online shop of high end electrical equipment. It is a China based company that aims to provide customers with high quality products at the lowest possible prices. Customers can try the company's products through sample orders with a long-term contract. Most customers come back soon after receiving their first deals.
More details about the company's useful products can be found at http://www.rfcnn.com/SMA-Female-TO-U-FL-Cable-Assembly-Jumper-105.html.