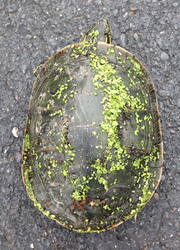 Rogers, MN (PRWEB) September 23, 2014
Aquatic plants are a necessary component to a pond. However, too many aquatic plants can be aesthetically displeasing or even limit recreational use of the water. Here is a prime example of how aquatic plants get into beautiful, weed-free farm ponds. This little turtle is out for a walk, probably making its way from one pond and heading to the next. This little guy is covered in duckweed and watermeal. Once this turtle enters the new pond, this pond will now be infected with both duckweed and watermeal.
Duckweed and watermeal are very small floating green plants that can reproduce very rapidly if not treated. Duckweed is often mistaken for algae. It may have a tiny 'roots' extending from the underside of the plant. Watermeal is the smallest of the flowering plants and generally very difficult to control. It often coexists with duckweed. Watermeal shows no visible roots and often look like green corn meal.
Many ways that floating plants get into ponds would be through other pond wildlife, roaming animals or waterfowl. Submerged plants can also get into ponds the same way or be washed into the pond. If there is a lot of run off from fertilizers, this can also cause an imbalance of phosphorus and other nutrient levels. Also, if there is rotting vegetation in the pond this will increase the nutrient levels in the pond.
Like algae, watermeal and duckweed thrive in nutrient rich waters. If either of these aquatic plants are present, Lake Restoration, a lake and pond weed control company located in Rogers, MN recommends using the PONDRestore® Ultra Kit, with the herbicide Fluridone or the PONDRestore® Ultra Watermeal kit that has the herbicide Clipper. Both kits contain Mizzen® Algaecide for treating a wide variety of algae, Sapphire Bay® Blue Pond Dye, and two nutrient reducers SparKlear® and PhosControl®. By using Lake Restoration's complete pond kit, you will get rid of the unwanted aquatic plants and your pond will find balance.
Lake Restoration has a wide variety of aquatic herbicides, algaecides, and pond dyes offered through their website http://www.LakeRestoration.com. If you would like help identifying any aquatic plants, please send photos to LRMail(at)LakeRestoration(dot)com.
About Lake Restoration
Lake Restoration, located in Rogers, MN, has been restoring the beauty of lakes and ponds since 1977. Every year thousands of satisfied customers use Lake Restoration products to keep their ponds and other water features in pristine condition. Lake Restoration offers a complete line of exclusive, simple, do-it-yourself solutions to treat a variety of pond weed maladies. To learn more about controlling pond and lake weeds and products and services used to accomplish this, visit LakeRestoration.com.