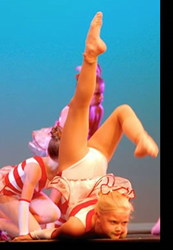 My gentle way of teaching instills confidence in these young dancers without injury.
Newtown, PA (PRWEB) September 18, 2014
Unlike any other toddler/pre-school dance or ballet program in the Princeton and Philadelphia metropolitan areas, Ms. Debra Sparks, B.A., M.Ed., combines her 30+ years of dance instruction with her advanced degrees in education to offer the most comprehensive "Little-Pro" pre-professional youth program for young dancers whose parents want proper training from the start.
Beginning as early as age two or when your child has the motor skills to participate in dance class, in a nurturing environment, your little toddler/pre-school dancer will learn how to dance the right way, while improving balance, coordination, flexibility, and strength. Like any other skill, unlearning bad habits is especially difficult for dancers when poor technique is adopted early on.
Bring your little toddlers and preschoolers to Debra Sparks Dance Works so they can learn proper dance form at an early age from Ms. Debra Sparks and her exceptional faculty of dance teachers.
Here's how to become a Little-Pro:

Ballet & All That Jazz – A combination class for young dancers wanting training in both ballet and jazz. The use of props and costumes promote fun, fun, fun! (ages 4-7)
Broadway Baby – Basic ballet and tap technique for our youngest Broadway-bound superstars.
Hip Hop Tots – Children's classes offering street funk, dance, break, and electric boogie.
Little Rock Stars – A new and innovative class for our young dancers who are looking for the latest dance craze. From jazz to hip-hop and acrobatic tumbling, your dancer will experience what it feels like to be a little rock star!
Mommy & Me – This class encourages young children to explore, experiment, and create through dance (ages 2 through 5)
Princess Ballet – An exciting beginner ballet technique class with a new "princess" theme each week.
Tiny 2-s – A combination ballet/jazz class for our tiniest dancers (aged 2 and up)
Tumbling Tots – Basic tumbling skills for our youngest Olympic-bound toddlers.
Remember—Only at Debra Sparks Dance Works will your little-pro toddler/pre-school dancer learn how to dance the correct way!
Register Today—Classes Filling Quickly!
About the Studio
When it comes to the best Bucks County dance studio instruction, there's no better mentor than Ms. Debra Sparks. She raises the "barre" with her high standards and nurturing approach to produce the finest of dancers.
Learn More
Throughout the year, Debra Sparks Dance Works hosts a variety of events, including Master classes with guest choreographers from New York, Philadelphia, and Los Angeles. Check out the DSDW dance school video!
Debra Sparks Dance Works offers year-round dance classes, focusing on classical ballet as the primary foundation of training. Classes offered for students of all ages, including dance classes for toddlers (age 2+) to adult:
Acro
Ballet—Classical
Ballet—Contemporary
Ballet—Pointe
Dance Classes for Toddlers
Glee Club
Hip Hop
Jazz
Jazz—Competitive
Jazz—Funk
Jump & Turn
Lyrical
Modern
Musical Theatre
Pilates
Tap
Zumba
For more information about Debra Sparks, the DSDW studio, Master classes, Newtown, Bucks County dance classes, the area's best ballet and dance training, dance classes for toddlers, or for answers to general questions, please call the studio at (215) 579-5678.
Or visit the company's website.
Press release writing by WebSiteText | SEO copywriting by Web Copywriters | Proofreading by The Proofreaders