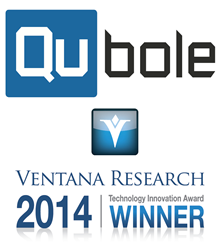 Congratulations to all the Technology Innovation Award winners – companies that have gone the extra mile to contribute the advancements and milestones that matter the most to the future of the technology industry.
Mountain View, CA (PRWEB) September 17, 2014
Qubole™, the award-winning provider of the next generation Cloud Big Data platform, has added another trophy to its case! Ventana Research has announced that Qubole will be lauded at the upcoming Technology Innovation Awards Ceremony on October 21, 2014 in Burlingame, California.
"The Technology Innovation Awards are the most prestigious annual industry awards provided today that acknowledge and honor the technology that matters most to business and IT and recognize technology innovations that do the most to improve productivity and outcomes," said Mark Smith, CEO and chief research officer of Ventana Research. "Congratulations to all the Technology Innovation Award winners – companies that have gone the extra mile to contribute the advancements and milestones that matter the most to the future of the technology industry. We look forward to seeing you and those interested in learning more about your technology innovation at the 2014 Ventana Research Summit."
Qubole is in excellent company, earning recognition in the Business Technology Innovation category alongside Apple, Oracle, and MicroStrategy. SAP, IBM, Equifax, and Pitney Bowes were among the other winners announced by Ventana Research this week.
Ashish Thusoo, CEO of Qubole, enjoyed the news: "This team has been winning awards since we were founded, but this one is particularly special. We hold Mark Smith and his colleagues at Ventana Research in very high esteem. Their selection of Qubole as the best and most innovative entry in the heavily competitive Big Data sector validates our strategy and hard work!"
To learn more about Qubole's award-winning product line, please contact Walter Paley, Marketing Manager at Qubole, by email at Walt (at) Qubole (dot) com.
About Qubole
Qubole is an award-winning Big Data-as-a-Service provider. Ashish Thusoo and Joydeep Sen Sarma, creators of Facebook's Big Data infrastructure and Apache Hive, founded Qubole to make it simple to prepare, integrate, and explore Big Data in the Cloud.
Qubole's Big Data-as-a-Service Solution, Qubole Data Service (QDS), runs on the top performing elastic Hadoop engine on the Cloud and includes a library of data connectors with a graphical user-interface for Hive, Pig, Oozie and Sqoop. QDS makes it easy to inspect data, author and execute queries, and convert queries into scheduled jobs. With QDS, the power of Big Data meets the simplicity of the Cloud.
The largest brands in social media, online advertising, entertainment, gaming and other data-intensive ventures trust QDS to handle their most challenging Big Data requirements at a fraction of the cost of alternatives. Customers include Pinterest, Quora, MediaMath, Insightera, Vocanic, TubeMogul, Decide.com, BigCommerce and many others.
About Ventana Research
Ventana Research is the most authoritative and respected benchmark business technology research and advisory services firm. They provide insight and expert guidance on mainstream and disruptive technologies through a unique set of research-based offerings including benchmark research and technology evaluation assessments, education workshops and research and advisory services. Their unparalleled understanding of the role of technology in optimizing business processes and performance and their best practices guidance are rooted in a rigorous research-based benchmarking of people, processes, information and technology across business and IT functions in every industry. This benchmark research plus their market coverage and in-depth knowledge of hundreds of technology providers means that they can deliver education and expertise to clients to increase the value they derive from technology investments while reducing time, cost and risk.
Ventana Research provides the most comprehensive analyst and research coverage in the industry; business and IT professionals worldwide are members of our community and benefit from Ventana Research's insights, as do highly regarded media and association partners around the globe. Their views and analyses are distributed daily through blogs and social media channels including Twitter, Facebook, LinkedIn and Google+. To learn how Ventana Research advances the maturity of organizations' use of information and technology through benchmark research, education and advisory services, visit http://www.ventanaresearch.com.