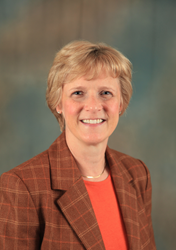 There is so much energy and excitement at Mercy – so much great work going on
Dobbs Ferry, New York (PRWEB) September 18, 2014
Mercy College is proud to welcome Dr. Karol Dean as the new Dean of the School of Social and Behavioral Sciences. As dean, she is responsible for the maintaining and enhancing the quality of the academic mission of the dynamic undergraduate and graduate programs within the School.
Dean said: "I am honored to join Mercy College. During my first three months, I have met faculty and staff members across the campuses dedicated to the educational mission of the College. There is so much energy and excitement at Mercy – so much great work going on! I am looking forward to carrying on Mercy's mission with the School of Social and Behavioral Sciences community."
Mercy College Provost Dr. Concetta M. Stewart said: "We are delighted to have Dr. Karol Dean join our Mercy College community. Dean's commitment to the advancement of education is evident from her years of work in the area of behavioral sciences. We know that her expertise and her commitment to education will advance the College's mission."
Dean is on the executive committee of the Society for Psychology of Women, and has served on the executive committee of the Association for Women in Psychology, in addition to memberships in several other professional organizations. She is a member of the Board of Directors of Pittsburgh Action Against Rape and has served on the boards of the YWCA of Greater Pittsburgh and the Associated Students of UCLA.
Dean earned her Ph.D. in Personality Psychology from UCLA. Her research interests relate to violence against women, and psychology of gender, more broadly. She has published articles and made presentations about sexual aggression, assessment of student learning, women's leadership and teaching of psychology, among other areas.
Prior to her current position at Mercy, Dean served as Dean of Chatham College for Women in Pittsburgh, and Assistant Provost at Mount St. Mary's College in Los Angeles. In these administrative roles, she has been responsible for new academic program development, curricular quality, financial management, student retention, faculty development and institutional assessment. She was a Professor of psychology at Mount St. Mary's College, and an instructor at UCLA for more than 16 years. Her professional interests are in higher education administration.
About Mercy College
Founded in 1950, Mercy College is a private, not-for-profit higher education institution that offers more than 90 undergraduate and graduate degree and certificate programs within five prestigious schools: Business, Education, Health and Natural Sciences, Liberal Arts and Social and Behavioral Sciences. Mercy College offers an engaging and personalized learning experience that includes the College's revolutionary Personalized Achievement Contract (PACT) program. The Mercy College PACT is the first program of its kind and now serves as a nationally recognized model for mentoring. http://www.mercy.edu/ 877-MERCY-GO.
###