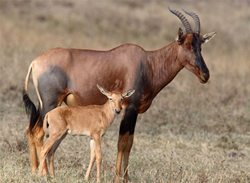 New York, NY (PRWEB) September 18, 2014
Topi, an innovative mobile solution that optimizes networking at conferences, meeting, and other special events, has announced its support to advance the conservation mission of the African Wildlife Foundation (AWF), an international conservation organization headquartered in Kenya. Topi CEO David Aubespin founded the company to help connect event-goers, and now wants to connect Topi's users to the African topi, a medium-sized antelope, and other remarkable wildlife. Topi has committed to donate a percentage of its proceeds to AWF in support of their conservation programs across Africa.
"Everybody who's met me knows that I love animals in general, so it was a very natural step to contribute concretely to their overall welfare," says Aubespin. "It also helps raise awareness with our clients and partners, who are excited to be part of this project."
The support from Topi will go toward AWF's Species Protection Program, which directs targeted funds to projects and partners on the ground working to protect Africa's embattled elephants, rhinos, and other threatened wildlife. There are an estimated 300,000 topis remaining in Africa, but their population is declining due to habitat loss and competition with livestock over natural resources. AWF is working to secure important habitat for topis and other wildlife and create economic incentives for local people to want to grow topi numbers.
"Topi's commitment to Africa's wildlife comes at an incredibly important time," says AWF Vice President of Philanthropy and Marketing Craig Sholley. "We are working to protect the vulnerable open spaces where antelopes like the topi live but where their habitat is at risk of over-development and fragmentation. If these animals are to survive and thrive now and in the future, their ranges must be safeguarded."
In southern Kenya, for example, AWF worked with the Entonet-Elerai Maasai community to establish a 5,000-acre community conservancy and to establish a high-end tourism lodge with support from a private investor. The conservancy has secured additional space for topis and other wildlife within the Amboseli-Tsavo ecosystem, allowing them to roam safely and freely. For the Entonet-Elerai community, the revenue generated from the lodge is reinvested into the community and into local conservation activities, providing an economic incentive to graze their livestock where it will not compete with wildlife.
"For topis to survive in a rapidly changing Africa, we must work closely with governments and local communities to carve out space for wildlife," says Sholley. "This includes formal protected areas but also through agreements with local communities which bring mutual benefit to both wildlife and people."
About African Wildlife Foundation
Founded in 1961, the African Wildlife Foundation (AWF) is a leading conservation organization focused solely on the African continent. AWF's programs and conservation strategies are based on sound science and designed to protect both the wild lands and wildlife of Africa and ensure a more sustainable future for Africa's people. Since its inception, AWF has protected endangered species and land, promoted conservation enterprises that benefit local African communities, and trained hundreds of African nationals in conservation—all to ensure the survival of Africa's unparalleled wildlife heritage. AWF is a nonprofit organization headquartered in Kenya and registered as a 501(c)(3) in the United States. For more information, visit http://www.awf.org and follow us on Twitter @AWF_Official and Facebook at http://www.Facebook.com/AfricanWildlifeFoundation.
About Topi
Topi was launched in December 2012 by CEO David Aubespin, a former Google employee. The company was named after a "fast and highly-social African antelope." With the concept of networking in mind, Topi's mission is to enhance the mobile experience for all event attendees by unlocking interactions in new ways and eliminate the use of name tag overflow. The Topi application also includes standard features such as event schedules, maps, speaker information, etc. For more information, visit topi.com and follow us on Twitter @topi and Facebook at http://www.facebook.com/topiapp.