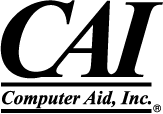 Allentown, PA (PRWEB) September 19, 2014
Computer Aid, Inc. (CAI) has been awarded a Systems Integration Services for Technology contract for the City of New York by the New York City Department of Information Technology & Telecommunications (DoITT). This award qualifies CAI to provide information technology services to the City of New York. The term of the contract is three (3) years beginning July 1, 2014 and includes one (1) three-year renewal option. This establishes CAI as one of a select pool of qualified contractors to which New York City government agencies will send requests for systems integrations services. These requests will contain a financial threshold that will establish CAI as a recognized technology leader in niche systems integration.
About CAI
Over the past 25 years CAI has gained an outstanding record and history of successful technology project delivery to complex multi-agency Public Sector clients. CAI's Public Sector practice has been competitively selected and renewed as the exclusive statewide managed consultant staffing provider by eight states and has successfully delivered IT consultant services to thirty eight (38) states and well over 400 state and local agencies throughout the United States. Computer Aid, Inc. (CAI) is a privately-held global Information Technology (IT) application management and outsourcing corporation based in Allentown, PA. The company is focused on the development of service models that leverage defined processes and performance metrics in order to maximize visibility, control, and productivity. Established in 1981, the company is comprised of more than 4,000 professionals worldwide with offices throughout the United States, Canada, Europe, and the Asia-Pacific region. Company core competencies include Application Support and Development, Managed Staffing, Desktop Services, Quality & Testing Services and IT Consulting.