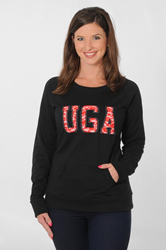 By focusing on combining school colors instead of logo placement, UG's tops can be worn to work, around town, and to the stadium!
Chicago, IL (PRWEB) September 25, 2014
UG Apparel offers a new, fashionable alternative to the humdrum boxy t-shirts for fashionable alumnae of schools across the nation. Inspired by the dedicated fandom of female fans, Nesha Sanghavi has created a clothing line that allows alumnae to showcase their spirit every day of the week, not just on game day! As one of the first collegiate brands to offer missy and plus size options, UG Apparel ensures that every woman looks her best.
While other companies focus on logo placement, UG Apparel works to combine school colors—making UG's tops perfect for work, around town, and game day. UG Apparel utilizes the most recent fashion trends such as lace, rhinestones, and ombré dyeing to bring a new line of chic apparel to your local bookstores every year.
UG Apparel also brings high quality garments to the marketplace, with many items featuring embroidered logos and dyed pieces that are sure to make you stand out in a crowded stadium. By emphasizing fashion, fit, and quality, UG Apparel has grown in popularity to become one of the best female collegiate apparel brands.
Launched in 2011, UG Apparel has now expanded to nineteen NCAA universities and can be found in over 200 retail and online locations. For more information, please visit the UG Apparel website (http://www.ugapparel.com) or contact Nesha Sanghavi.